A recent report out of the Naval Undersea Warfare Center (NUWC) in Newport, Rhode Island, describes a successful test on a previously untested class of vessel. The test, performed on the USS Gerald R. Ford (CVN 78), was used to evaluate the bearing, range and heading accuracy of shipboard sensors.
Because the CVN 78 is part of a new class of aircraft carriers, the testing team conducted a ship check one year in advance. This enabled the team, led by Mark Gelzinis of Division Newport's Atlantic Undersea Test and Evaluation Center (AUTEC), to determine how to set up test equipment, which systems to test and where on the ship those systems were located.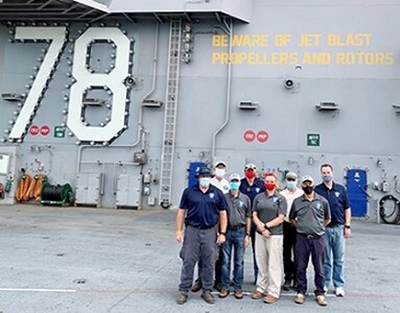 Meticulous pandemic precautions were required for testing sensors aboard the USS Gerald R. Ford. Source: U.S. Navy photoThe test was conducted in two phases, a dockside test at Norfolk Naval Base in Virginia and an at-sea test at AUTEC in the Bahamas. Tested systems included radars, sonars, gyrocompasses, electronic warfare systems, electro-optical/laser tracking systems and navigation equipment.
"The success of the test… proved the value of beginning the planning process as early as possible, maintaining detailed documentation through the planning process and involving the right people from the earliest stages," Gelzinis said.
He noted that the COVID-19 pandemic presented a number of challenges for the task — particularly with respect to travel from West Palm Beach, Florida, where the testing team is based. To ensure health and safety requirements were observed, precautions were meticulously detailed. Before testing could be conducted, advance approval from the ship's medical staff and commanding officer were required; temperature checks were also performed before boarding.
Gelzinis acknowledged that the necessity of so many added precautions took its toll, but he added that the success of the sensor accuracy testing aboard the USS Ford is a critical element of ship and fleet readiness.
The oldest warfare center in the United States, NUWC is one of the corporate laboratories of the Naval Sea Systems Command (NAVSEA), a U.S. Navy materiel organization. NAVSEA's primary objective is to engineer, build and support the Navy's fleet and combat systems, which includes mandating sensor accuracy and tests of this type for all new construction vessels.