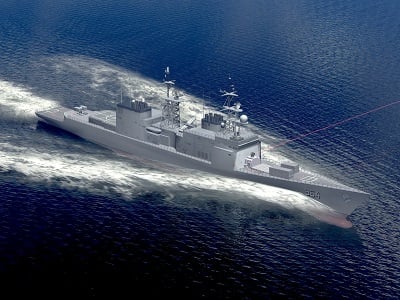 Image Credit: Northrop Grumman CorporationResearch and development of laser weapons began in the mid-20th century. Countless failed attempts ensued, and for quite some time the only suitable military tasks for lasers were for range-finders and target acquisition. As technology breakthroughs brought forth the anticipation that lethal lasers could soon be commissioned, Protocol IV of the Geneva Convention, adopted on October 13, 1995, in Vienna, established a pre-emptive ban on blinding laser weapons. Development of energy-directed weapons, however, continued with the purpose of dazzling enemy craft and destroying boats, vehicles, drones and missiles.
The Primitive Years
Long before the development of Protocol IV the United State military invested in the development of directed energy weapons. In the 1960s the U.S. Department of Defense provided a $1 million grant to the Technical Research Group (TRG) for research on laser weapons. This grant was quickly followed by countless programs and funding to several other entities.
Early attempts to manufacture energy-directed weapons, however, failed for a number of reasons including the inability to focus a concentrated beam, inefficient energy transfer, and ineffective thermal dissipation.
Possibly the largest flaw of laser weaponry in the 20th century was the nature of the laser medium. Chemical media, such as oxygen-iodine, were incapable of producing a high-powered laser, while fluorine and hydrogen proved to be too volatile for practical use and too large to fit into a vessel. The fiber-laser proved to be the solution that addressed these shortcomings and in the dawn of the 21st century things began to happen.
USS Ponce's Laser Weapons System (LaWS)
The first operational LaWS is a 30kW solid-state infrared laser mounted on the USS Ponce (AFSB(I)-15), an Austin-class amphibious transport dock ship that was slated for decommission in March 2012 before the decision to convert the craft into a test bed for the deployment of the first-ever LaWS.
The 30kW LaWS onboard the USS Ponce is the first moment of success after decades of research and development. It emits a destructive beam capable of shooting down unmanned aircraft (UAV) and disarming small boats. It can also be tuned down and used as a means to dazzle and disarm enemy craft.
What's Next?
A 30kW LaWS with decent beam quality, a range of just under a mile and ample size and weight has been commissioned by the U.S. Navy. However, it fails to scale to the power needed to function as a ballistic missile interceptor.
A higher-power laser, capable of disarming ballistic missiles and augmenting the use of interceptor missiles that range in operational expenses of hundreds of thousands to millions of dollars, is being investigated. Northrop Grumman is under contract to develop a 150 kW laser for the Office of Naval Research.
The 12-month, $53 million deal was negotiated for the development of a three-phase laser weapon system demonstration. Initial design, ground-testing, and weapons testing at sea aboard a Navy Self Defense test ship is underway. A three-year deal to fully develop a ship-board laser weapon with the ability to quickly incinerate drones, small boats, aircraft, ships and even missiles could be carried out if all contract options are exercised. The design will incorporate multi-spectral target acquisition, an advanced off-axis beam director, and high-power fiber lasers with extended range capabilities.
The U.S. Air force and Army have also been involved in directed-energy weapon development. The Air Force Research Lab is engaged in a five-year SHIELD program with the goal of creating sufficient on-board power, optics and high-energy lasers that would be required to defend large platforms including the B-52 Bomber, C-17s and C-130s. Airborne tests are slated for 2021, and actual service plans are contingent on technological miniaturization so that the devices could be configured for fighter jets such as the F-15, F-16 or F-35.
The U.S. Army in partnership with Raytheon tested a fully integrated laser system mounted to a rotary-wing aircraft, an Apache AH-64 attack helicopter. They were able to acquire and hit an unmanned target at White Sands Missile Range, New Mexico, over a slant range of 1.4 kilometers.
Conclusion
The hype of energy-directed weapons is that they are described as insanely cheap to operate, achieve pinpoint accuracy, and remain invisible to the naked eye. There are, however pitfalls that will likely keep any true gains from the investment from being realized in the immediate future.
The only commissioned device is the LaWS on-board the USS Ponce, and its capabilities are limited. For any energy-directed weapon atmospheric interference can occur from airborne particles including larger aerosols, dust and precipitation that could jeopardize any desired effects. The required power to operate a high-powered laser exceeds many current on-board power sources and current attempts to miniaturize the required power source haven't achieved ample space and weight constraints. It seems premature to suggest that we have already witnessed the birth of laser weaponry, but as lasers in the 30 kW range exemplify their capabilities the birth of useful weaponry may not be too far away.
Resources:
Military Applications of Lasers
US Navy Selects Northrop Grumman to Design and Produce Shipboard Laser Weapon System Demonstrator