TDK Corp. has expanded its tunnel-magnetoresistance (TMR) angle sensor portfolio designed for automotive and industrial applications.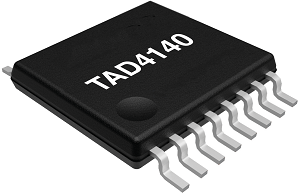 The TAD4140 magnetic sensor. Source: TDK The new TAD4140 sensor features full redundancy with two signal processor units and a 2 x 2 TMR bridge in a single package. Both angle sensors are capable of contactless sensing up to 360° in an ambient temperature range of -40° C up to 150° C. TDK said it makes the device suitable for motor-control applications such as brushless DC (BLDC) motor commutation in electric power assisted steering (EPAS) systems.
The sensor features a small angle error of ±0.05°, digital output for all major interfaces, automatic angle error correction and compensation, contactless 360° angle measurement and is compatible with automotive applications where functional safety is required.
Digital outputs in the sensor support Hall emulation (UVW), encoder up to 12 bits (ENC), incremental encoder (ABZ), pulse width modulation (PWM) and serial peripheral interface (SPI). The TAD4140 gives two different outputs such as ABZ and ENC to calculate speed, direction and motor position simultaneously. This allows the sensor to be employed in applications with two electronic control units (ECUs) working in a master/slave configuration in applications such as steering motor position detection.
TDK has been rolling out numerous sensors in the past few months including a temperature sensor for e-mobility and a six-axis motion sensor for robotics, wearables, drones and the internet of things (IoT).