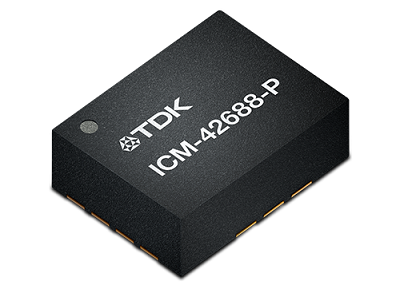 The ICM-42688 6-axis MEMS. Source: TDKTDK Corp. has introduced a new 6-axis microelectromechanical motion sensor that combines a 3-axis gyroscope and a 3-axis accelerometer.
The InvenSense ICM-42688 uses the company's MotionTracking technology for use in applications such as robotics, wearable devices, drones and other internet of things (IoT) devices.
The sensor provides a 40% lower noise-figure and improves temperature stability by two times, ensuring any motion event is measured with accuracy, regardless of temperature changes. The MEMS includes a 100% accurate clock that eliminates timing errors and a high resolution analog-to-digital converter that allows for an eight times increase in gyroscope resolution and a four times increase in accelerometer resolution.
Other features include an on-chip APEX motion processing engine for gesture recognition, activity classification and pedometer along with programmable digital filters and an embedded temperature sensor.
A development platform is available that includes software tools, embedded motion driver, on-board embedded developer tools with code development and a 15-minute setup time.