The LoRaWAN specification is a low power, wide area networking protocol designed to work in regional, national or global networks and with internet of things (IoT) requirements such as bi-directional communication, end-to-end security, mobility and localization services.
LoRaWAN can be used for a variety of applications related to the IoT such as smart cities, smart gas metering, smart healthcare, smart buildings, smart supply chain and, of course, the smart home. As communication and sensors become more important for smart everything, the need for LoRaWAN will continue to expand exponentially.
Digital Matter's Yabby LoRaWAN 915 location tracker is a GPS tracking device that is small enough to be attached to assets and tracked without needing to frequently change batteries. The device can work on assets such as livestock, packages, bags, bicycles and more.
The device can be mounted on assets that are exposed to rain, dust and outdoor conditions and features a battery life of up to three years without needing battery changes.
Summary points
Battery-powered GPS/GNSS tracking device
IP67 rated
U-Blox GPS/GNSS module direct
Murata's LPWAN module supporting LoRaWAN
Target market: Transportation
Released: Q3, 2019
Pricing: N/A
Availability: Worldwide
Total manufacturing costs: $26.48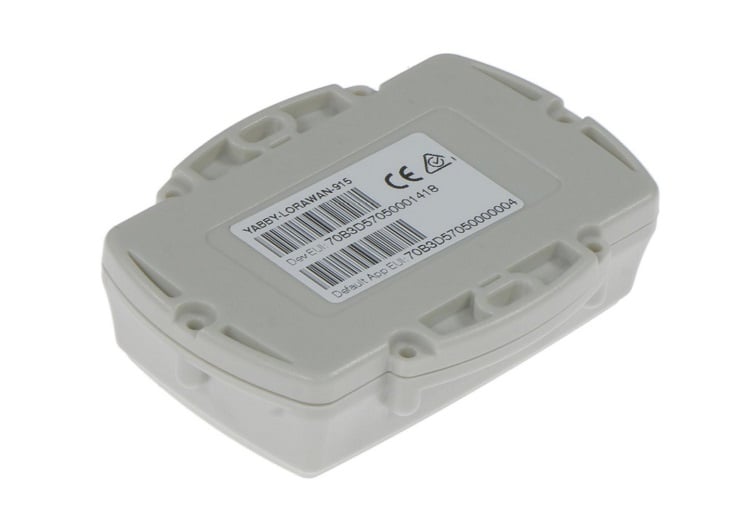 The bottom view of the Yabby LoRaWAN location tracker. Source: IHS Markit
Main PCB — Top
1. Keystone Electronics Corp., battery holder, 3 AAA cell, injection molded plastics, with three spring contracts, three contact tabs, one 60 mm 1.33 mm OD discrete insulated wire.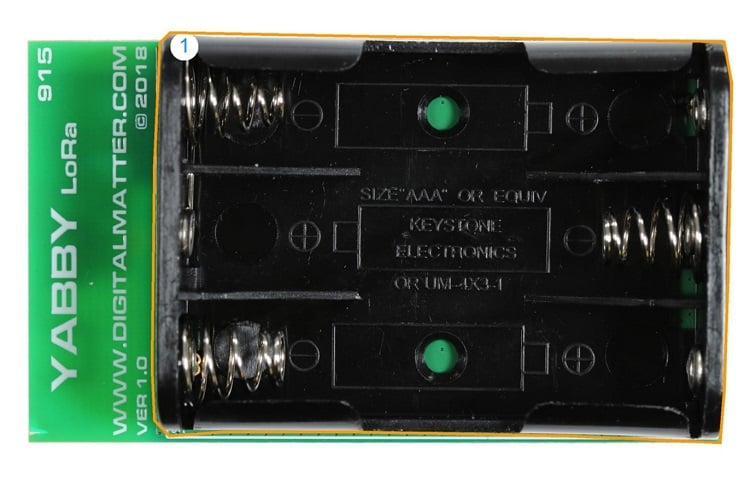 The top of the main PCB of the Yabby LoRaWAN location tracker. Source: IHS Markit
Main PCB — Bottom
1. U-Blox AG, EVA-M8Q-0-10, GNSS receiver, GSP/Galileo/GLONASS/BeiDou, 72-channel u-blox M8 engine.
2. NXP Semiconductor, MMA8451Q, accelerometer, three-axis, ±2g/±4g/±8g, 12 bit/8 bit digital output.
3. GPS antenna, ceramic patch.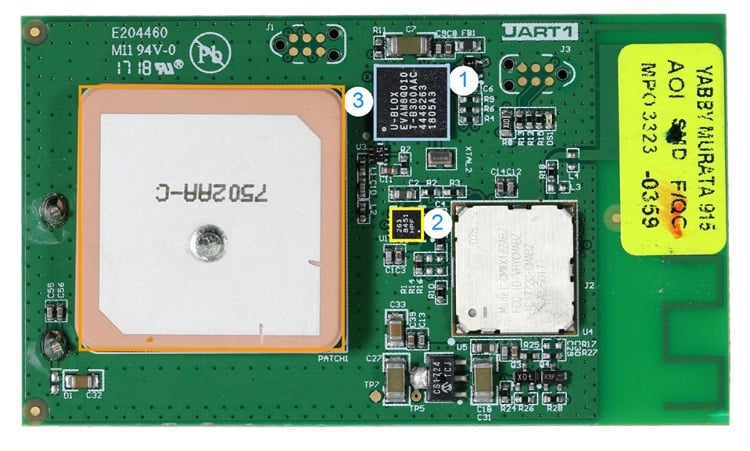 Bottom view of the PCB board inside the LoRaWAN location tracker. Source: IHS Markit
Major components
$9.55 — GNSS receiver, GPS/Galileo/GLONASS/BeiDou, 72-channel u-blox M8 engine — MFR: U-Blox Ag — (Qty: 1)
$9.00 — LPWAN module, LoRa, w/ STM32L082CZY6 MCU & SX1276IMLTRT RF transceiver. MFR: Murata Manufacturing Co. Ltd. (Qty: 1)
$0.88 — Accelerometer, three-axis, ±2g/±4g/±8g, 12 bit/8 bit digital output — MFR: NXP Semiconductors — (Qty: 1)
$0.74 — GPS antenna, ceramic patch (Qty: 1)
$0.66 — Enclosure, main, injection molded plastic (Qty: 1)
$0.54 — Enclosure, main, top, injection molded plastic (Qty: 1)
$0.50 — Battery holder, 3 AAA cell, injection molded plastic, w/ three spring contacts, three contact tabs, one 60 mm 1.33 mm OD discrete insulated wire — MFR: Keystone Electronics Corp (Qty: 1)
$0.42 — Four-layer, FR4, lead-free (Qty: 1)
$0.30 — Crystal, tuning fork, 32.768 kHz — MFR: Kyocera Corp (Qty: 1)
$0.28 — LNA, GNSS, GPS/Galileo/GLONASS, 1575.42 MHz — MFR: Maxim Integrated Products Inc. (Qty: 1)