The market for 5G smartphones is expected to heat up substantially in 2020 as coverage is forecast to increase with new deployments coming to new cities and existing cities expanding infrastructure for wider range.
There were only a handful of 5G-capable smartphones released onto the market in 2019, but already in 2020 there have been announcements from major smartphone manufacturers that multiple phones will be released this year with 5G compatibility. This should not only give consumers more options but a variety of choices in terms of whether they need a high-end phone or a middle of the road option. Eventually, low-budget smartphones that are 5G-capable will hit the market, expanding the number of users that can connect to 5G.
Until these new phones are on the market, the current crop of smartphones will be updated with software in order to allow for greater download speeds as the infrastructure is rolled out. This includes the Huawei Mate 30 Pro 5G smartphone that was introduced in the fall 2019.
Huawei has been under pressure from a handful of countries including the U.S. after the Trump Administration effectively blacklisted the company. However, other countries, specifically those in Europe, have decided to entertain using Huawei because the Huawei smartphones being sold in European countries are some of the first phones capable of supporting the 5G networks there.
The Huawei Mate 30 Pro 5G is the second smartphone from the company to support 5G in Europe, China and other parts of Asia and Australia.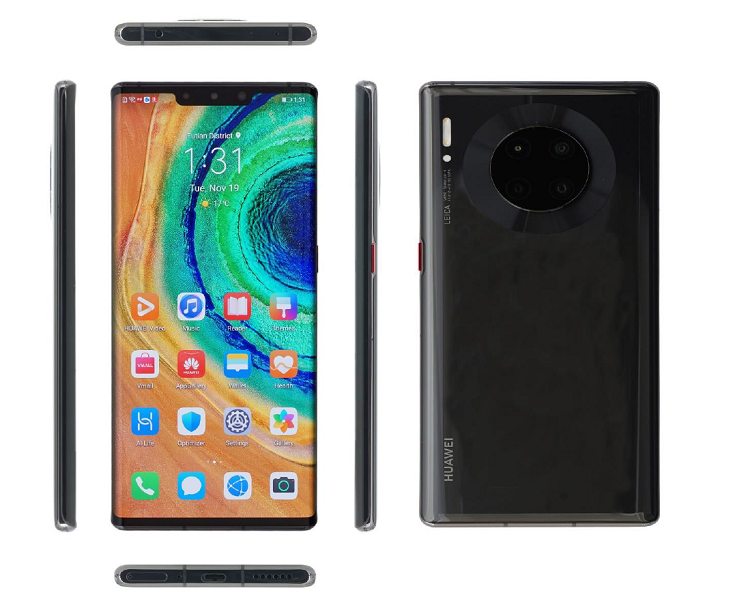 Huawei's Mate 30 Pro 5G smartphone is currently available worldwide by telecoms. Source: IHS Markit
Summary points
HiSilicon Kirin 990, 5G embedded system-on-chip, octa-core, 7 nm, Hi3690
8GB LPDDR4X SDRAM, 256GB UFS NAND
6.53 in diagonal, flexible AMOLED, 2400 x 1176, w/on-cell touch
Quad 40-megapixel ultrawide lens + 40-megapixel wide lens + 8 MP telephoto + ToF, primary camera
Dual 32 MP wide + 2.4 MP gesture, secondary camera
Target market: Mass market
Released: October 2019
Pricing: MSRP USD $991.86
Availability: Worldwide
Total manufacturing cost: $431.57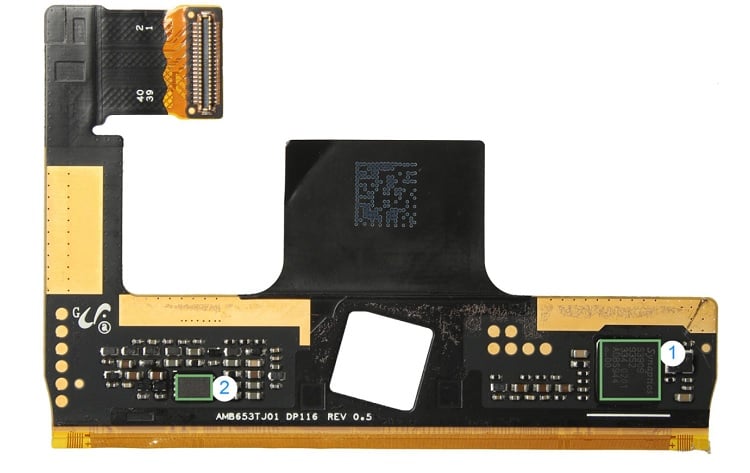 The touchscreen module of the Huawei Mate 30 Pro 5G. Source: IHS Markit
Touchscreen module
1. Synaptics, S3909, touchscreen controller, capacitive
2. Winbond Electronics Corp., W25Q40EWUXIE, flash, NOR, 4 Mb, 104 MHz, SPI Interface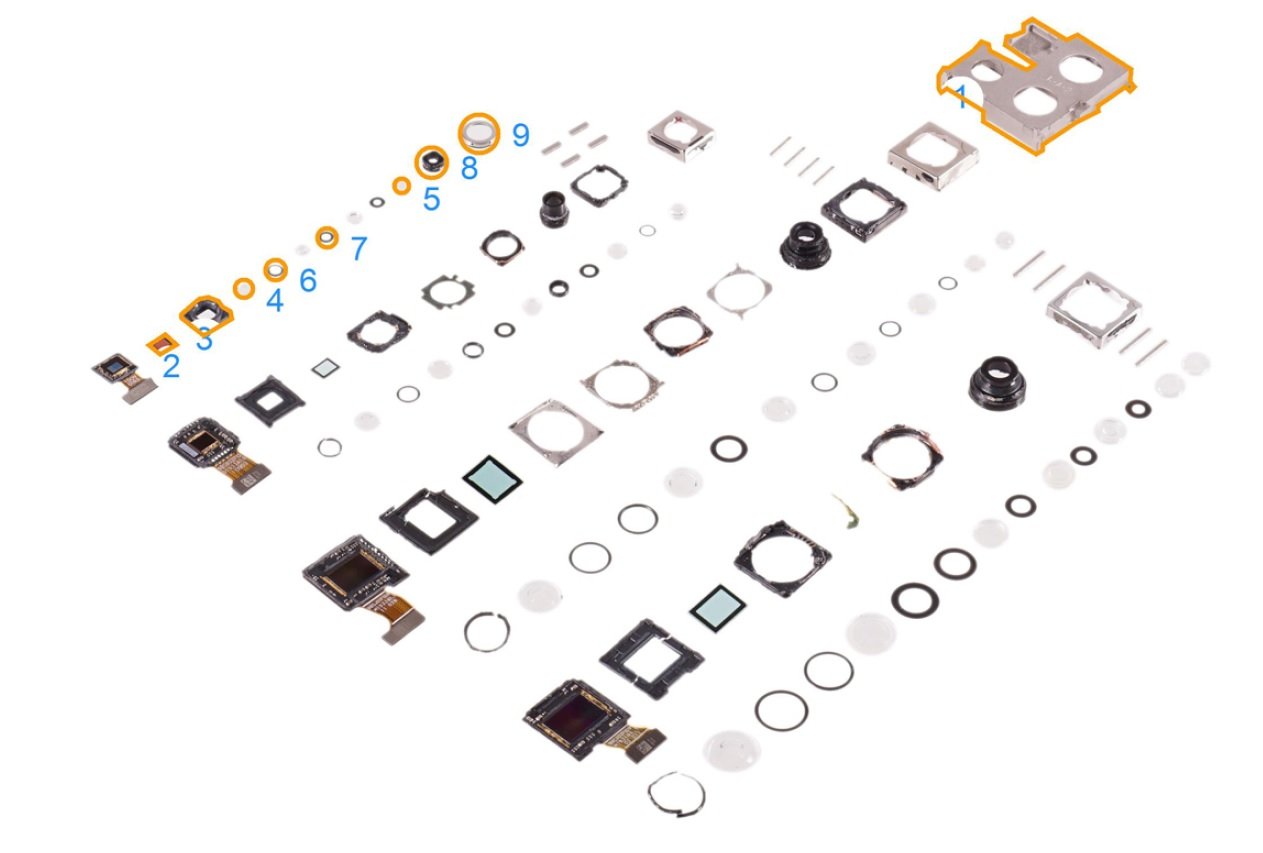 A look at what devices are inside the Huawei Mate 30 Pro 5G's primary camera module. Source: IHS Markit
Primary camera module
1. Primary camera frame, die-cast magnesium alloy
2. Filter glass
3. Lens barrel housing, injection molded plastic
4. First lens element, injection molded clear polycarbonate
5. Fourth lens element, injection molded clear polycarbonate
6. Ring/spacer A, black mylar, die-cut
7. Ring/space B, black mylar, die-cut
8. Lens barrel, injection molded, die-cut
9. Camera module cover, stamped/formed metal with injection molded plastic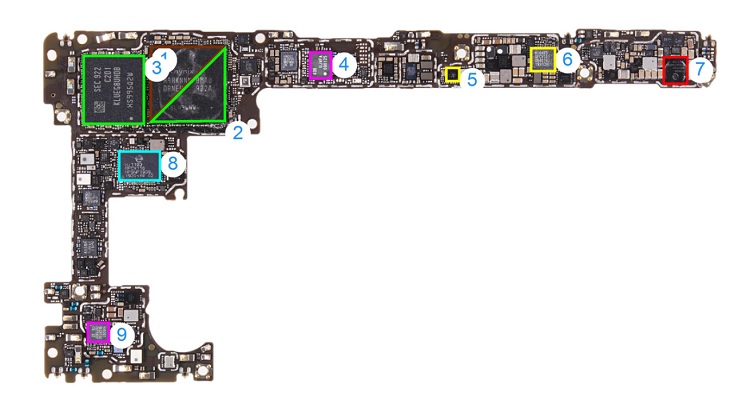 The components including the main processor and memory on the main PCB bored of the Huawei Mate 30 Pro 5G smartphone. Source: IHS Markit
Main PCB
1. HiSilicon, Hi3690 apps/baseband processor, multi-mode, Kirin, 990 5G Soc, Octa-Core CPU, triple core NPU, dual-core ARM Cortex-A76 2.86 GHz CPU+ dual-core ARM Cortex-A76 2.36 GHz.
2. SK Hynix, H9HKNNNFBMAUDR-NEH, SDRAM, LPDDRX, 8 GB, PoP
3. Samsung Semiconductor, KLUEG8UHDB-C2D1, Flash, UFS NAND, 256 GB
4. FEM, contains Peregrin RF switch with SAW filters
5. Cirrus Logic Inc., CS35L36A, audio power amplifier
6. HiSilicon, Hi6405, audio codec
7. HiSilicon, Hi6526, power management IC
8. HiSilicon, Hi1103, Bluetooth/FM/GPS/WLAN/IEEE802.11 a/b/g/n/ac, Bluetooth 5.0 GPS/AGPS/GLONASS/BeiDou/Galileo/QZSS
9. HiSilicon, Hi6D03, transmit module, PAM, multi-mode, multi-band, contains RF switches and PAs.
Major components
$66.35 – Apps/baseband processor, multi-mode, Kirin 990 5G SoC, octa-core CPU + triple-core NPU, dual-core ARM Cortex-A76 2.86 GHz CPU + dual-core ARM Cortex-A76 2.36 GHz CPU + quad-core ARM Cortex-A55 1.95 GHz CPU, Mali-G76 GPU, 7 nm FinFET EUV, PoP. MFR: HiSilicon (Qty. 1)
$66.00 – 6.53 in diagonal, AMOLED, LTPS, 2400 x 1176, on-cell touch (Y-OCTA), notch flexible display, Pentile Matrix. MFR: Samsung Display Co (Qty. 1)
$62.00 – Primary camera module, quad, 40 MP ultra-wide angle + 8 MP telephoto + ToF, BSI CMOS, auto focus lens, dual optical image stabilization (40 MP wide angle + 8 MP telephoto), 7P lens (ultra-wide angle) + 7P lens (wide angle) + 5P lens (telephoto) + 4P lens (ToF). (Qty. 1)
$30.70 – Flash, UFS NAND, 256 GB. MFR: Samsung Semiconductor Inc. (Qty. 1)
$30.20 – SDRAM, LPDDR4X, 8 GB, PoP. MFR: SK Hynix Inc. (Qty. 1)
$19.62 – Enclosure, main, midframe, machined aluminum, anodized with injection molded plastic with 1 stamped/formed cooper tab and 18 gold plated contacts & 134 spot-welded points with three brass inserts. (Qty. 1)
$10.50 – Secondary camera module, dual 32 MP (wide-angle) + 2.4 MP (gesture), BSI CMOS, fixed lents, 5P lens (wide-angle) + 4P lens (gesture). (Qty 1)
$9.29 – 12-layer, FR4/RCF HDI, any layer stacked vai, lead-free. MFR: Compeq Manufacturing Co. (Qty. 1)
$7.70 – RF transceiver, multi-mode, multi-band, GSM/EDGE/TD-SCDMA/WCDMA/LTE/TD-LTE/5G NR. MFR: HiSilicon
$5.99 – Enclosure, main, bottom cover, 3D curved tempered glass, single hold with multi-color film, printed. (Qty. 1)