SparkFun Electronics has released two global positioning system (GPS)/global navigation satellite systems (GNSSs) featuring U-blox's automotive dead reckoning (ADR), allowing for connection to multiple constellations including GPS, GLONASS, BeiDou, Galileo and QZSS.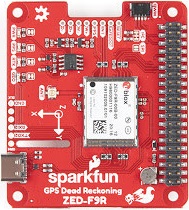 The ZED-F9R pHAT board. Source: SparkFunThe ZED-F9R breakout board uses the ADR technology for continuous positioning by fusing a 3D inertial measurement unit (IMU) sensor, wheel ticks, a vehicle dynamics model, correction data and GNSS measurements.
The ZED-F9R pHAT board includes all of the same sensors and configuration options as the breakout board but also connects to a Raspberry Pi to bring GPS/GNSS capabilities to the platform.
SparkFun said the boards are the first to combine both real time kinematics (RTK) as well as dead reckoning into a single professional platform.