This year, Apple will likely roll out its first 5G iPhone.
In fact, Apple might roll out two 5G iPhones in 2020 that will use Qualcomm's 5G modems after Apple settled its royalty and licensing lawsuit with Qualcomm, dropping all legal issues and allowing the device maker to use its modems for future smartphones.
Apple was going to use Intel's 5G modems for a 5G iPhone but because Intel was struggling with the technology in order to make a 2020 timetable, the company went ahead and settled with Qualcomm in order to not fall behind in the 5G race.
However, in the summer of 2019 Apple acquired Intel's modem business in order to expedite the development of future products, enabling the company to differentiate from the other smartphone vendors moving forward. The deal will also give Apple the ability to gain smartphone expertise as well as strike better deals with other major 5G patent holders.
So by 2021, the market could see an Apple-based modem and processor inside a 5G iPhone if development proceeds to the point where they are comfortable with the technology.
In the meantime, the iPhone 11 was released in September 2019 in a variety of flavors but without 5G. The iPhone 11 Pro Max is the larger version of the iPhone 11 rollout with more memory and a 6.46 in active-matrix organic light emitting diode (AMOLED) screen.
Summary points
Apple A13 bionic Soc, Hexa-core, 7 nm, APL1W85
6.46 in AMOLED, 2688 x 1242, w/GF2 touchscreen
Triple 12MP OIS AF + 12MP OIS AF + 12MP FF primary camera
12 MP FF secondary camera, face ID, IP68
4GB LPDDR4X, 64GB NAND flash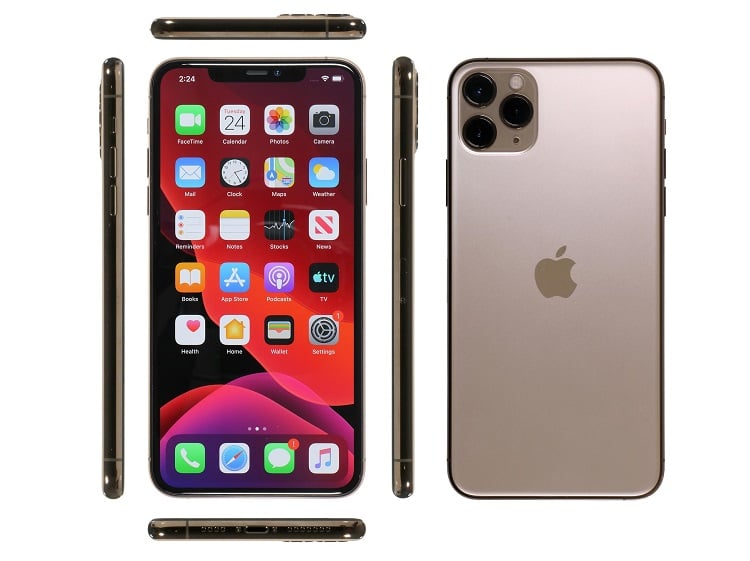 The iPhone 11 Pro Max. Source: IHS Markit
Target market: Mass market
Released: September 2019
Pricing: MSRP USB $1,099
Availability: Worldwide
Total manufacturing cost: $363.60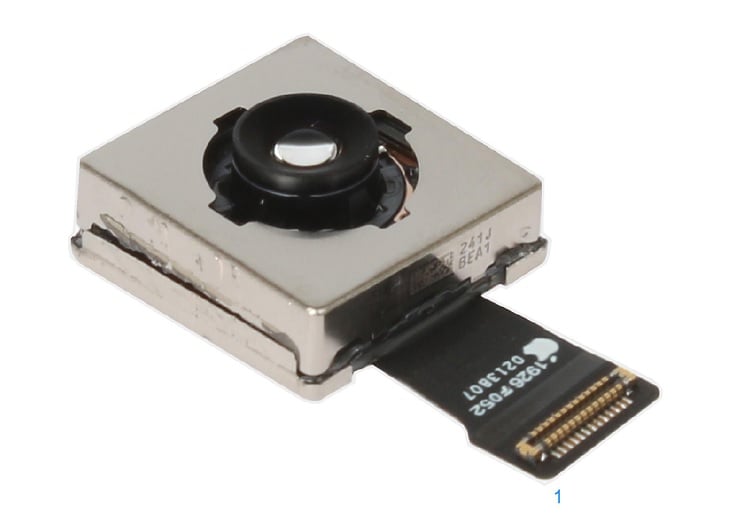 iPhone 11 Pro Max camera module. Source: IHS Markit
Primary camera
1. Primary camera module B, 12Mp, BSI CMOS, 1/3 in format, auto focus lens, optical image stabilization, 6P lens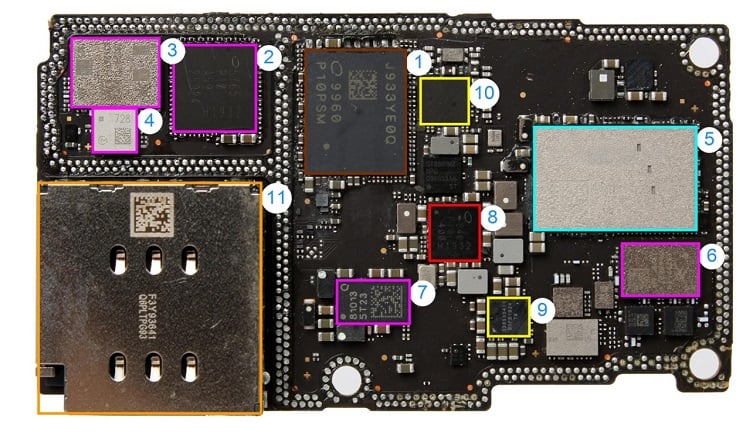 The interface PCB of the iPhone 11 Pro Max
Interface RF PCB
1. Intel Corp. PMB9960 baseband processor, multi-mode, multi-band GSM/EDGE/WCDMA/TD-SCDMA/HSPA+/LTE with integrated SDRAM, 14 nm
2. Intel Corp., PMB5765, RF transceiver, multi-mode, multi-band, GSM/EDGE/WCDMA/TD-SCDMA/HPSA+/LTE with GPS/GLONASS/BEIDOU/GALILEO
3. Skyworks Solutions Inc., SKY78233-17, transmit module, PAM, multi-mode, multi-band, contains Skyworks RF switches and LNA and analog ICs with duplexers and SAW filters.
4. Murata Manufacturing Co. Ltd., FEM, contains Murata LNA with SAW filters
5. Murata Manufacturing Co. Ltd., 338S00647, BT/WLAN module, contains Broadcom BCM4378 and Murata FEM, IEEE 802.11 ax, Bluetooth 5.0, MIMO
6. Skyworks Solutions Inc., SKY13797-19, transmit module, multi-mode, multi-band, contains Skyworks PA with duplexers and SAW filters
7. Qorvo Inc., QM810103, power management IC, envelope tracking
8. Intel Corp., PMB6840, power management IC
9. Cirrus Logic Inc., CS35L27, audio power amplifier
10. NXP Semiconductors, SN200, NFC controller with secure element
11. Nano-SIM Card, 2-in-2 stacked with metal housing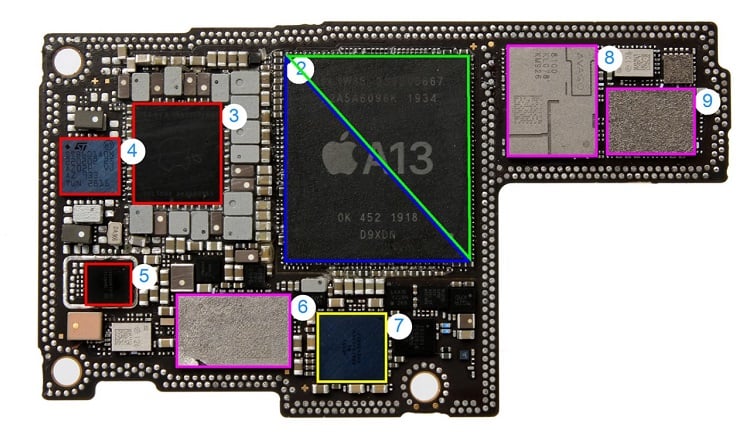 Main PC board of the iPhone 11 Pro Max. Source: IHS Markit
Major components
6.45 in diagonal, AMOLED, LTPS, 2688 x 1242, flexible display, Pentile matrix with integrated flex PCB, 13g. MFR: Samsung Display Co. LTD. (Qty: 1)
Apps processor, Apple A13 bionic SoC, 64-bit ARM v8.3A CPU 2.65GHz, 4-core GPU, 8-core neural engine, 7 nm, PoP. MFR: Apple Inc. (Qty: 1)
Enclosure, main, midframe, machine stainless steel, PVD coated and glossy with injection molded plastics with 1 machined stainless steel and 75 spot-welded points, with 1 stamped stainless steel and 12 threaded metal standoffs with 27 metal tabs. MFR: MPN (Qty: 1)
Primary camera module A, 12MP, BSI CMOS, ½ 5 in format, auto focus lens, optical image stabilization, 6P lens (Qty: 1)
SDRAM, LPDDR4X, 4GB, PoP. MFR: Micron Technology (Qty: 1)
Baseband processor, multi-mode, multi-band, GSM/EDGE/WCDMA/TD-SCDMA/HSPA+/LTE with integrated SDRAM, 14 nm MFR: Intel Corp. (Qty: 1)
Primary camera module B, 12MP, BSI CMOS, 1/3 in format, auto focus lens, optical image stabilization, 6P lens (Qty: 1)
Flash, NAND, 64GB. MFR: SK Hynix Inc. (Qty: 1)
6.46 in diagonal, GF2 type, direct bonding with Corning Gorilla glass cover with integral flex PCB with OCA (Qty: 1)
BT/WLAN module, contains Broadcome BCM4378 and Murata FEM, IEEE 802.11 ax, Bluetooth 5.0, MIMO MFR: Murata Manufacturing (Qty: 1)