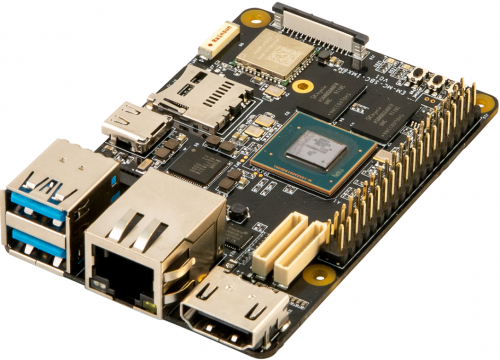 The MaaXBoard developer board. Source: AvnetAvnet Inc. has launched a production-ready, low-cost single board computer designed for embedded computing and applications leveraging artificial intelligence (AI) at the edge.
The MaaXBoard also supports design engineers and end-users wanting to create industrial automation, multimedia, AI and internet of the things (IoT) applications with reduced cost and time-to-market.
The board can be part of an embedded hardware system and forms part of Avnet's end-to-end product development ecosystem, which the company has been moving toward for the last few years.
The MaaXBoard uses NXP's i.MX 8M family of applications processors, which is based on the ARM Cortex-A53 and Cortex-M4 cores, and includes audio, voice and video processing for anything from consumer smart home to industrial building automation and embedded computers.
Other features of the board include 2 GB of double data rate 4 (DDR4) memory, a Gigabit Ethernet port, dual USB 3.0 host ports, HDMI output, MIPI-DSI, MPI-CSI, Wi-Fi, Bluetooth Low Energy, MicroSD card slot and embedded multi-media controller (eMMC) storage. It also ships with a passive heatsink and a guide to speed developers with hardware or software development projects.