Avnet has expanded its line of internet of things (IoT) modules with a cellular module that leverages Nordic Semiconductor's NB-IoT/LTE-M system-in-package (SiP) and system-on-chip (SoC).
The AVT9152 module is designed for a range of embedded applications requiring cellular connectivity but need low power. The module can support a variety of applications such as beacons for COVID-19 contact tracing, logistics and asset tracking, vending machines, kiosk terminals, medical devices and smart building automation.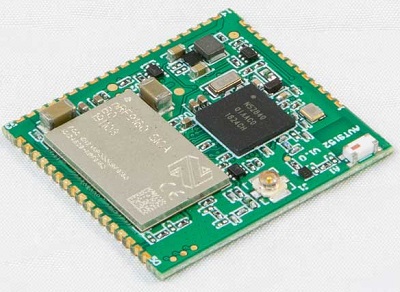 The AVT9152 IoT module. Source: AvnetNordic's nRF52840 Bluetooth 5.2/Bluetooth low energy (BLE) SoC features a 64 MHz, 3 -bit Arm Cortex M4 processor with floating point unit that along with the nRF9160 SiP includes the Arm Cortex-M33 processor for ample computational power to support a range of IoT applications.
These applications demand wireless connectivity and power efficiency without sacrificing a device's scale. Avnet delivers this complete package by leveraging Nordic Semiconductor's nRF9160 low power system-in-package (SiP) and nRF52840 Bluetooth 5.2/Bluetooth LE advanced multiprotocol system-on-chip (SoC).
An evaluation kit for the AVT9152 module helps with application development with an end-to-end cloud connection platform via Avnet's IoTConnect platform. The kit features a three-axis accelerometer, three-axis gyroscope and pressure, temperature, humidity, ambient light and motion passive infrared sensors.