For 100 years, Avnet Inc. has been in the distribution business, selling parts from other companies all over the world in order to increase scope and channels where products can be sold.
Avnet's distribution business is the core of its revenue and will continue to be so for the foreseeable future, but the company is changing its model in order to leverage its technology to become a solutions provider in the internet of things (IoT).
Already the company has introduced the Azure Sphere MT3620 starter kit to bring Azure-based IoT products to market. Avnet also introduced its SmartEdge Agile IoT device that enables artificial intelligence (AI) and security at the edge. There is also a SmartEdge industrial IoT gateway, a customized Raspberry Pi-powered device for industrial automation applications that need strong security.
Pete Bartolotta, president of business transformation at Avnet, and Lou Lutostanski, vice president of IoT at Avnet, sat down with Electronics360 to discuss the company's changing business approach to provide actual solutions, its IoT activity in the smart factory and IoT for makers.
How has Avnet's business changed over the past few years to include the development of IoT?
Bartolotta: We started with determining how do we take the great assets that Avnet has built up for the past 100 years and leverage our technology to become an end-to-end solutions provider for our customers. The last few years we have been focusing this way and using our engineers to solve customer problems and doing acquisitions to fill in our ecosystems.
Part of this was that Avnet has traditionally been great at device and data technology but never the software capability or ability in the cloud. Our acquisition of Softweb filled in that gap opening up a range of new opportunities for us.
Our traditional distribution business is only a plus to what we are now doing. Nothing's going to change the fact we have distribution in our blood but we are going to leverage what we have learned to enhance our new capabilities in IoT.
In terms of IoT manufacturing, how is Avnet evolving its business to include IoT as part of the smart factory or industrial automation?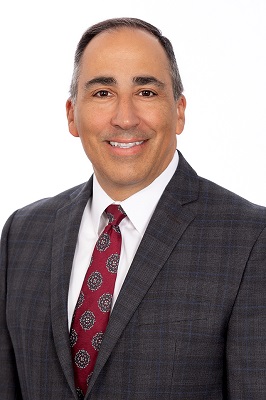 Pete Bartolotta is the president of business transformation at Avnet. Source: AvnetBartolotta: For Avnet, incorporating IoT for smart factory and industrial automation starts the same as it does for any other industry or vertical — with defining the business case.
IoT is about delivering insights, and insights begin with a use case that defines the problem to solve upfront. This requires careful planning, smart targeting, clever implementation and good communication. We have a suite of advisory services and workshops to help achieve this. Once we've defined the business case, or if a company comes to us with this work already completed, we will architect an end-to-end solution to achieve their objectives.
Through Avnet's Smart Factory solution, we help customers keep track of production and measure performance. By leveraging our IoT Connect platform to collate and analyze data across machines, we generate insights for our customers that enable them to drive efficiencies on the factory floor.
In a smart factory environment, this includes centralized remote monitoring and management as well as large scale, multi-site asset monitoring to check machine status and performance. Predictive maintenance analysis avoids unnecessary breakdowns and improves business decisions about equipment, product design and manufacturing processes. And real-time analysis provides greater visibility into everyday operations. This approach results in reduced costs, while increasing service levels.
For example, we worked with a leading industrial manufacturer to develop a solution for remote monitoring and predictive analysis. By piloting a solution on Avnet's IoT Connect platform, our customer can now navigate data acquisition from various devices on the production floor and map proof points to show business impact. And, they'll be able to tap into the power of the Avnet ecosystem — from design to production to supply chain and logistics — throughout the lifecycle of their solution.
What do you see as the greatest challenges for the proliferation of IoT?
Lutostanski: I would say the one thing holding back the proliferation of IoT is there are too many disciplines involved. The use cases are what people have the most problems with. How does IoT become meaningful to the IoT industry and is it impossible for one company to do everything in every market across the world?
IoT applications cross over into consumer, industrial, medical, retail, construction and even lawn care. We have not seen a theme as to where IoT will be the strongest. We instead focus on our IoT Connect ecosystem that integrates applications, artificial intelligence and data at the cloud and into a harmonious environment that can be used across multiple use cases.
How big is IoT to Avnet compared to its traditional distribution business and do you see the percentages changing in the future?
Bartolotta: The resources we are putting into our IoT ecosystem will be a substantial part of Avnet's financials in the next 3 to 5 years.
How will IoT change over time?
Lutostanski: The only change is getting it into the cloud and generating insights to take action and that principle will go on forever. The way we bring IoT to mainstream is through advances in packaging technology and system technology.
For example, we have taken an office environment in Chicago and transformed it into a smart building. The building has different personas for building management, employees and tenants. They all have a different experience when they walk in the office. The plan is to take that building and environment and expand it to other buildings out there. There won't be one package for each building, it is more about customization.
You will see more companies transforming from traditional companies to more service companies in the near future.
Is it safe to say that the deals you made with Xilinx for a developer board and your work with Microsoft Azure Sphere are just the beginning of the plans the company has for new boards?
Lutostanski: Absolutely. We are trying to scale the industry and bring IoT to the mainstream and create new markets for our suppliers. We have created our ecosystem and built a bunch of new skills and cloud and AI and put together a bunch of tactics and technologies to be able to roll this out to a large number of people and change the market for our suppliers.
Bartolotta: Microsoft has tasked us to build and distribute 20,000 starter kits for Microsoft Azure Sphere. They asked us to distribute these starter kits and get feedback on where these kits could be deployed and used. We have 1.6 million strong of makers and engineers through our element14 and hackster.io network so it was a perfect fit.
We are about halfway through distributing the kits and the input has been extremely strong. We are going through a qualification process for those that get the Sphere kit and we have more requests than kits, so we are going through a vetting process to get the kits in the right hands so we get the right kind of feedback on where these kits would be most useful.