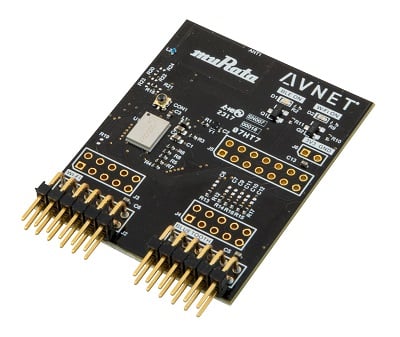 The Murata 1DX WiFi Bluetooth Pmod. Image credit: Avnet
Avnet Inc. has introduced a new interface module for wireless, embedded and internet of things (IoT) designers to add wireless capabilities to existing development kits.
The Murata 1DX WiFi Bluetooth Pmod includes example guidelines for Avnet's ZedBoard and UltraZed-EG development kits to demonstrate how to enable and use the wireless functions from PetaLinux.
The Type 1DX module complies with IEEE 802.11b/g/n and Bluetooth Version 4.1 plus EDR, Power Class I + BLE. The interface module is compatible with any development board that has access to a dual 2x6 Pmod connection such as the Avnet PicoZed SOM + Carrier, Avnet MicoZed SOM + Carrier and Avnet Arty Artix-7 low-cost field programmable gate array (FPGA) development board.
The Murata 1DX Pmod is smaller than a dime and can fit into small spaces and uses minimal external circuitry for design challenges. The Pmod is available now for purchase in the Americas and EMEA for $59.