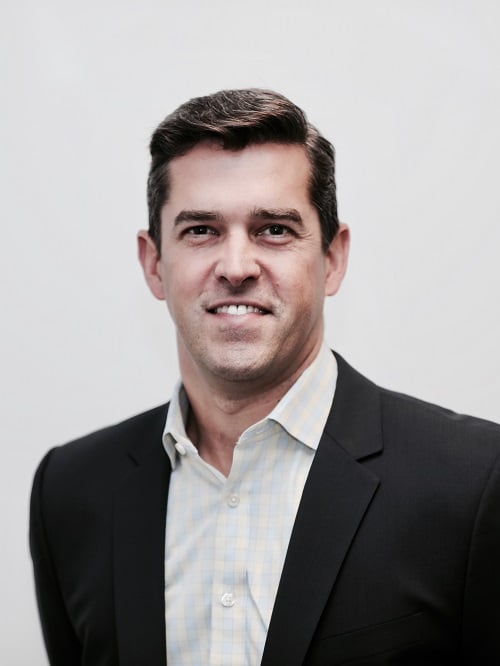 J. Christopher Dries, Ph.D., president and CEO of UnitedSiC. Source: UnitedSiCElectronics360 recently got a chance to talk with J. Christopher Dries, Ph.D., president and CEO of Princeton, New Jersey-based UnitedSiC. Dries and his company are strongly committed to the possibilities of silicon carbide (SiC), a wide-bandgap semiconductor material that is moving into the mainstream for power electronics applications and is poised to drive key high-efficiency power aspects of a greener economy.
"We saw the growth in renewables and electric vehicles over the coming decades," Dries said, referring to his decision in 2009 to invest in a research operation that had its start at Rutgers University 10 years prior. Dries and his partners had sold a semiconductor operation based on indium phosphide (InP) and indium gallium arsenide (InGaAs) compounds and were looking for an early-stage business to invest in.
"When we looked at the ecosystem of silicon carbide, it looked a lot like the indium phosphide business that we came from – but 20 years prior," he said.
In other words, people understood the benefits of the new materials and a few substrate material producers were beginning to emerge. In the early days of InP, one could see that telecommunication systems and long-haul communication systems were poised to be a major growth driver. When Dries and his partners purchased the assets of the business and began to build it into a commercial enterprise, the world of possibilities for SiC were just beginning to come into view.
The company's first devices were developed in a pilot production fab based on available four-inch substrate technology. Two years later, the company embarked on a unique strategy for its time: going fabless.
"It's a much less capital-intensive way to operate," said Dries. By utilizing external silicon-based foundries to produce its silicon carbide, UnitedSiC could focus on leveraging the unique characteristics of SiC and developing novel device architectures. The scheme also added an inherent design innovation.
"If we don't own the substrate, don't own the foundry, don't own the packaging house, you have to do something different to cover that gross margin," Dries explained. "And you have to do it while enhancing the performance for your customers."
Product portfolio
That motivation has led the company to go after the incumbent silicon market, steering its product portfolio into ecosystems not generally seen as appropriate for silicon carbide.
One product line from that portfolio is, according to Dries, currently made by no one else in the world: SiC normally-on junction gate field-effect transistors (JFETs). These are the driving force behind what Dries refers to as "the magic." While a user perceives a package sold by UnitedSIC as a standard interface to a low-voltage silicon metal-oxide-semiconductor field-effect transistor (MOSFET), there are actually two transistors in play: custom-designed silicon MOSFETs and silicon carbide JFETs, connected in series. The configuration allows the normally-on JFET to rise to 12 V before turning off, and the current path through the JFET to be used as a start-up supply for the controller IC. By gating in an auxiliary supply from the converter transformer, standby dissipation can then be reduced to zero.
At APEC 2019, the Applied Power Electronics Conference held in Anaheim, California from March 17 to 21, the company introduced a new line of low-power JFETs. These are designed for customers to package with their own low-voltage silicon and controller ICs in order to fabricate flyback AC-DC converter supplies. Applications for the new line range from small power-supply adapters to LED lighting to auxiliary power supplies for industrial motor drives. Dries said that creating the products, which range from 650 V to 1,700 V, was guided by past requests for custom-designed solutions.
The company's product portfolio also includes normally-off field-effect transistors (FETs) that have been branched into two series tailored to specific uses: the UJ3C series, which can be dropped into existing silicon designs and used for soft-switched applications; and the high-performance UF3C series, which is optimized for hard-switched applications and was recently expanded to include a Kelvin package option. The FETs' innovative cascode configuration differentiates the devices from competitors, making them compatible with a wide range of gate drivers and gate drive ICs, including silicon carbide MOSFETs, silicon FETs, silicon IGBTs and even silicon super-junction devices.
"We have customers all over the world that simply take out a silicon super-junction FET, drop in one of our FETs and get higher efficiency," said Dries.
Overall, Dries emphasized, the company's product portfolio spans a broad power range – from the relatively low-power flyback line starting at 15 W to traction inverters for automotive and other applications that are measured in megawatts. Speaking just before APEC in March 2019, Dries said that "We've released what will be, by Q3 of this year, the largest silicon carbide portfolio in the world."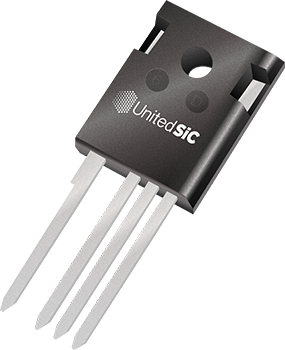 Based in Princeton, New Jersey, UnitedSiC develops innovative silicon carbide components. Source: UnitedSiC
Capitalizing on power electronics trends
While the consumer electronics spaces tend to be cyclical, Dries said, markets served by power electronics are poised to grow over the next several decades – and to do so independently of economic conditions.
"We're in a growth environment that's being driven by what we like to call 'megatrends' that are just not going away," he explained.
Currently, the top market for UnitedSiC is automotive. The company's products have been designed into on-board chargers, DC-DC converters and traction inverters. Other areas where the company is playing a role include upgrades to IT infrastructure, as data centers continue to grow; battery charging, in terms of fast DC charging for electric vehicles, wireless charging and industrial charging including automation and robotics; and renewables including solar inverters, energy storage and wind.
"It's a very exciting time for the business," Dries added.
The wide-bandgap debate
An ongoing topic for discussion at the annual APEC show centers around wide-bandgap technology. Earlier in the decade, Dries explained, there was a fair amount of discussion as to whether the technology, which utilizes materials such as gallium nitride (GaN) and silicon carbide, was really going to take off. His position is that the debate is over now, at least with respect to silicon carbide.
"It is growing dramatically, and that tide is lifting all boats," he noted.
One development that he felt brought more attention to silicon carbide in the automotive space was the recent announcement of it being used in the Tesla Model 3.
Dries said that he believes "the jury is still out" on GaN, as it continues to hold a place in the low-voltage sphere. However, he added, that "unless [GaN products] do something more disruptive, it's hard to see that they can be cost-effective at higher voltages."
GaN conducts laterally – in other words, just across the surface of the wafer. SiC is a vertical current-flow conducting device, with a source at the top and a drain at the bottom. The result is significantly higher current density per unit area – and hence a die size advantage that Dries feels overwhelms cost advantages claimed by GaN.
As for plain silicon, Dries believes that there will continue to be innovation, but he views it "sort of like Moore's law for some of the high-voltage power devices, where they really are out of technological runway."
Returning to silicon carbide, Dries said, "We're really at the early stages of our technological innovation. We still have that runway."
Learn more
Those interested in the silicon carbide solutions offered by UnitedSiC have a few paths that can be pursued. Most of the company's customers, Dries said, have existing designs that a UnitedSiC component can simply be dropped into. Some customers also are given half-bridge eco-boards that can be used for double-pulse testing with recommended gate drive solutions.
As for the UnitedSiC website, it offers a Design Resources section with schematics and Gerber files for a wide range of specific designs; Dries noted that these are "a way for engineers to get started very easily."
For more on the Applied Power Electronics Conference, visit our dedicated section Electronics360 covers APEC 2019.