Typically the trends within the electronics industry are in the realm of smaller, faster, more powerful and more efficient. While that hasn't changed for 2018, after spending a week with the power electronics industry's biggest players, a new trend has become apparent: everyone wants to be in power.
If you read nothing else, these words can sum-up the power electronics industry as it stands today: SiC, GaN and magnetics, with a focus on electric vehicles, digital servers, renewable energy and wireless.
Recently, we offered a few reasons to support the importance of an entire conference dedicated to applied power electronics. Now we'll give you an inside look at the industry, along with trends and booming application areas.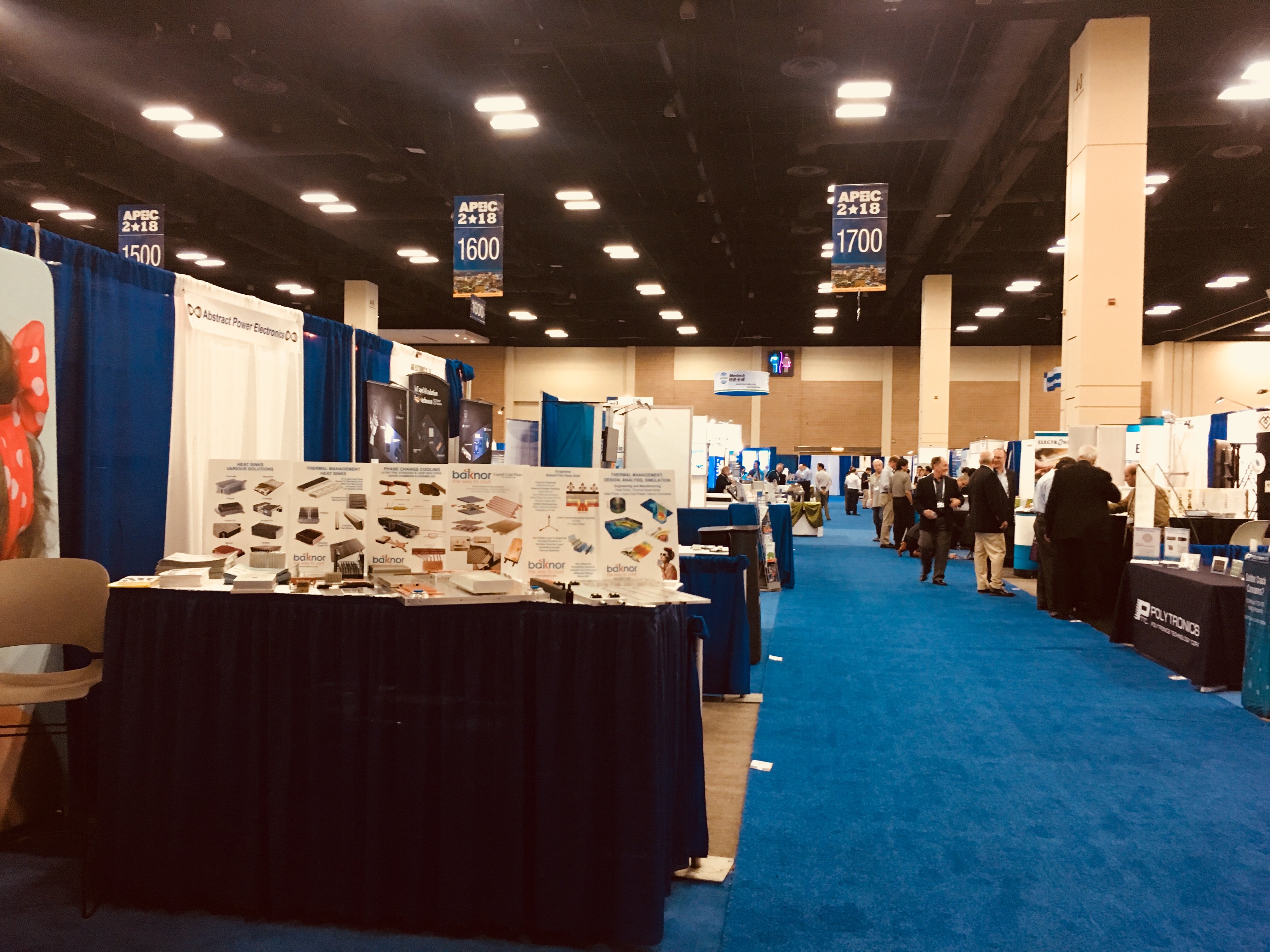 Silicon Carbide (SiC)
While there's been a lot of buzz around the technology in recent years, SiC has actually been mass produced since 1893, previously used in abrasive applications. Over the last 10 years, we've seen more and more semiconductor devices produced using SiC, such as Schottky diodes, JFETs and MOSFETs, typically in high-power switching applications, as well as an influx of companies implementing bare SiC Schottky diode chips into modules and in IGBT power modules. APEC exhibitors showcased a variety of SiC technology due to the material's ability to offer greater power levels in smaller packages, which in turn lowers material costs (reducing amounts of copper used). This is a rapidly growing market.
The technology has set the stage for companies like Wolfspeed, which is poised to become a powerhouse semiconductor company again, according to Paul Kierstead, director of business marketing for the company's Sic power products division. After a rocky year for the organization due to internal politics, the outlook is hopeful.
Littelfuse Inc., IXYS Corporation, which was just acquired by Littelfuse in January and Monolith Semiconductor Inc., a developer of silicon carbide technology in which Littelfuse holds a controlling interest, exhibited a growing power semiconductor portfolio. The circuit protection company had a large presence at the show, relaying the message "we are a power company."
One of the biggest takeaways from the show came enthusiastically from Monolith Semiconductor Inc. CEO, Dr. Sujit Banerjee: everyone is getting into power, mainly due to increased electrification as more and more energy is converted to electrical energy.
Gallium Nitride (GaN)
Another buzzword that made its way back to APEC again this year was GaN, the material that has proven capable of displacing silicon in semiconductors for power and RF devices. As its name suggests, GaN Systems was proudly showcasing breakthroughs in GaN power transistor power levels and form factors. GaN Systems CEO Jim Watham demonstrated just how GaN is solving power challenges in industries including consumer electronics, data centers, automotive, renewable energy and industrial.
"All GaN is better than silicon," said Watham, as he reminisced about where we were years ago in terms of GaN technology and where we are now.
Efficient Power Conversion also had a large presence, touting the benefits of GaN as it transforms entire industries like computing, communications and medicine. The company revealed how eGaN® FETs and ICs are enabling new ways of thinking about server architectures, wireless charging and LiDAR for autonomous vehicles.
An important industry goal is making GaN easy to use.
Renewable Energy
Solar is still growing. This is a fact we can extract from China's continuous spending on the technology. Also, grid-scale installations are growing, while home and small industrial solar installations have plateaued. This application was highlighted throughout the show.
Data Servers
Energy efficiency is still a major theme in 2018, but now the focus is on digital servers. For starters, let's think about the rise of bitcoin and its subsequent increase of server space. We also need data centers for IoT and machine learning. And what's the number one expense for these behemoths? Power.
That's what's driving the innovation, particularly with GaN technology. For example, Compuware used GaN Systems' technology to develop a 3 kW server power supply and Jim Watham believes that the industry could save hundreds of millions of dollars just by using GaN.
Electric Vehicles
According to Bloomberg Finance Report, by 2040, 54 percent of new car sales and 33 percent of the global car fleet will be electric.
While companies like Wolfspeed tried to stay out of the automotive end-market for some time, China raced ahead. The company participated in off-board charging initiatives there, but noticed that in reality charging was just not fast enough. In order to achieve faster charging speeds, there would need to be more room in vehicles and that's not ideal, so Wolfspeed is currently determining ways to shrink. Using SiC instead of silicon in electric vehicles provides a reduction in size, which opens up space in the vehicle to accommodate. Can we get to five-minute charging? Maybe. That's another key goal in EV charging tech. Companies like Wolfspeed are trying to get there.
While traditional EV charging technology can provide about 300 miles of drive per charge, SiC in your car will give you another 10 percent. It's clear at this point that most of the EV world believes that SiC is the platform they will build on going forward. UnitedSiC also touted its EV applications for the technology, rolling out a Gen 3 650 volt SiC FET.
EV focus included specifically wireless charging, on-board chargers, and a focus on inverter/motor drives.
Wireless Charging
Wireless charging wasn't only tied to the EV craze at APEC.
STMicro considers itself revolutionizing the charging landscape, as it showcased its 5 W receiver, 3 W transmitter that conducts power transfer between a smartwatch and smartphone. Microchip is also a player in the charging evolution, dedicated to eliminating multiple cords for different devices.
In addition, GaN Systems displayed one of Nucurrent's solutions that utilized GaN technology, demonstrating wireless power transfer without losing charge.
Collaborations and Acquisitions
In order to advance in the industry, a variety of changes and collaborations are taking place. In 2014, President Obama announced a new public-private manufacturing innovation institute. The North Carolina headquartered consortium consists of 18 companies and six universities partnered with the federal government to strengthen U.S. manufacturing. One such collaborative effort is that of PowerAmerica, led by North Carolina State University. The combined researchers and engineers are working to make wide bandgap (WBG) semiconductor technologies cost-competitive with the silicon-based power electronics that are currently used.
The FREEDM Center also joined in at APEC. At the Future Renewable Electric Energy Delivery and Management (FREEDM) Systems Engineering Research Center, universities from the United States have joined forces with industry partners to develop a more secure, sustainable environmentally friendly electric grid.
An important acquisition that was certainly highlighted at the show was that of IXYS by Littelfuse. This blend, which involves IXYS acting as the cornerstone of the companies' semiconductor business, along with Monolith's SiC technology playing a role now, thrusts Littelfuse into the power game.
Though not particularly noteworthy in the power electronics industry, this week Wolfspeed acquired Infineon's RF division, which certainly raised some questions at the Wolfspeed booth.
Another noteworthy acquisition announced just this month was that Microsemi by Microchip. A combination of Microchip, a provider of microcontroller, mixed-signal, analog and flash-IP solutions, and Microsemi Corporation, a provider of semiconductor solutions separated by power, security, reliability and performance, allows for the expansion of Microchip's solutions for data center, communications and aerospace and defense applications.
Mitsubishi Electric also made its first appearance at APEC since it changed its name from Powerex. The acquisition, which was announced late 2017, was intended to strengthen Mitsubishi's power device business in the Americas.
Packaging
Let's also consider packaging.
With Littelfuse, IXYS, and Monolith all under one umbrella now, boundaries are removed. Monolith has the SiC technology, but was limited in its packaging offerings, whereas IXYS is strong in packaging technology. Last year we saw the first release of SiC packages emerge from the new company and this year we can expect even more.
And while just four years ago GaN Systems came out with the "best transistor," the company is now focused on packaging the parts.
The Rise of Magnetics Companies
Old-fashioned magnetics cannot handle the frequencies that come along with SiC. This year we saw an increase of magnetic companies and workshops with titles like "Power Magnetics @ High Frequency - Eliminating the Smoke and Mirrors." Companies showcased designs for high-frequency magnetics and the conference addressed many of the challenges facing magnetics design in high-frequency, switch-mode power supply topologies.
Magnetics also showcased its high-permeability "M" material. The ferrite material, at 15,000µ, can be used in EMI/RMI suppression filters, common mode chokes, signal processing and broadband transformers.
Faster switching is important too, another reason why magnetics is so relevant this year. Packages are designed for specific speeds, but SiC changes this. This year, we saw companies dedicated to using other techniques to make packages smaller, but with fewer losses.
TDK also played into the trend with its MnZn-based PC200 ferrite materials designed specifically for power supplies and frequency converters that operate with fast-switching power semiconductors on a GaN basis. The new material is optimized for a frequency range from 700 kHz to 4 MHz and is available in ER, EFD, ELP, EQ, I and RM cores. The new PC200 material will enable more compact power supplies with more energy savings.
Additional Areas of Interest
Some other important notes worth mentioning include that of heat distribution that comes along with SiC. Companies are looking for more innovative packages that allow for better heat dissipation. In addition, we saw some futuristic technology including that of the Evercell battery.
The Evercell battery is a nanomaterial solar cell which The Face Companies' COO Jeff Shepard describes as "camouflage." Evercell is different than other energy harvesting devices, enabling applications where batteries are not possible. Shepard believes that the new technology, just about a year from production, enables new thinking and the ability to have power wherever and whenever you need it.
Overall we need power to be usable, electrified and efficient and companies are working diligently to get us there.