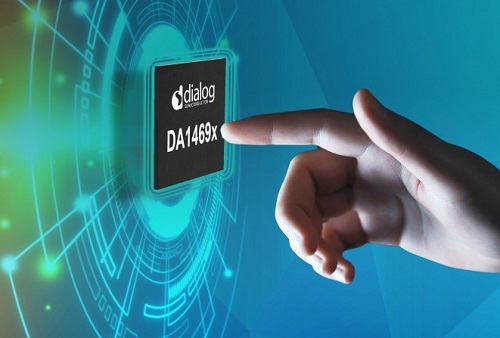 The SmartBond DA1469x BLE devices. Source: DialogDialog Semiconductor PLC has introduced a new family of Bluetooth Low Energy (BLE) system-on-chips (SoCs) that saves battery life while extending range.
The SmartBond DA1469x family of SoCs features three integrated cores with capabilities to sense, process and communicate between connected devices. Dialog said the family of BLE SoCs is the first wireless microcontroller in production with a dedicated application processor based on the ARM Cortex-M33 processor, which provides more processing power for applications such as fitness trackers, smart home devices and virtual reality game controllers.
The family includes a sensor node controller (SNC), which is based on a programmable micro-DSP that runs autonomously and independently processes data from the sensors connected to its digital and analog interfaces, waking the application processor only when needed. The SoC also includes a power management unit (PMU) for power management by controlling different processing cores and only activating them as needed. The PMU integrates three regulated power rails and one low-dropout (LDO) output to supply external system components, removing the requirement for a separate power management IC (PMIC), Dialog said.
Other features include up to 144 Dhrystone million instructions per second (DMIPS), 512 kilobytes (KB) of random access memory (RAM), memory protection, a floating-point unit, a dedicated crypto engine for security and expandable memories.
Embedded World is taking place Feb 26-28 in Nuremberg, Germany.