Mouser Electronics, Inc. is now stocking the SmartBond™ DA14680 and DA14681 Wearable-on-Chips™ from Dialog Semiconductor. Part of the highly integrated SmartBond system-on-chip (SoC) family of power-efficient Bluetooth® low-energy solutions, Dialog's DA14680 and DA14681 deliver power management and RF technology single-chip wearable solutions for advanced Internet of Things (IoT) designs.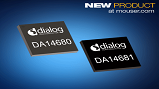 SmartBond™ DA14680 and DA14681?Wearable-on-Chips™. Source: Dialog Semiconductor The Dialog SmartBond™ DA14680 and DA14681 Wearable-on-Chips, now available from Mouser Electronics, are small, ultra-low-power SoCs that deliver more than double the battery life of competitive application-enabled smartphone accessories, wearable devices or computer peripherals. The DA14680 and DA14681 consume around 1 mA for typical Bluetooth 4.1 and 4.2 events, and feature flexible processing power, flash memory options, and an advanced power management unit that supports rechargeable batteries and can power a complete wearable system.
The DA14680 includes eight Mbits of on-chip flash memory, and offers unlimited execution space and over-the-air updates. In contrast, the DA14681 performs memory execution up to 32 MBytes using its external QSPI flash interface. Both devices are based on an ultra-low-power 30uA/MHz ARM®Cortex®-M0 application processor that can be programmed to a maximum clock frequency of 96 MHz. To ensure personal data security, both devices deliver end-to-end banking-level encryption through a dedicated hardware crypto engine with elliptic curve cryptology.
The DA14680 and DA14681 devices enable designers to create a fully hosted wearables sensor hub that eliminates several external components, facilitates a smaller form factor, and substantially lowers system cost and power consumption. The devices are compatible with Dialog's SmartSnippets™ development boards and kits and Dialog's royalty-free SmartSnippets Studio software development environment.