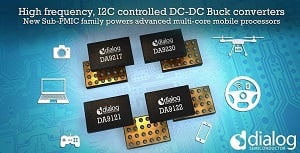 The PMIC family can be used for multiple handheld gadgets. Source: Dialog SemiconductorDialog Semiconductor plc has introduced a new power management product family in a smaller form factor to be used in next-generation mobile devices.
The sub power management integrated circuit (PMIC) family reduces inductor size and height to allow use of smaller external components. Dialog said the PMIC family works well with ARM Cortex-based multi-core application processors, high performance system-on-chips (SoCs), field-programmable gate arrays (FPGAs) and graphic processing units (GPUs) to enable developers to fit a 6 to 10 amp power solution on limited board areas of mobile devices including smartphones, tablets, notebooks, PCs, DSLR cameras, solid-state drives and more.
The PMICs support a single output up to 6/10 amps or dual outputs up to 3/5 amp per output for 7 nm-based SoCs, the company said. The devices can also run from a single cell Li-ion battery, 3.3 V or 5 V power supplies and the I2C interface enables dynamic voltage control to optimize power savings and performance.