Last week, Harley-Davidson debuted two electric bike concepts at X Games 2019 in Aspen, Colorado. The motorcycle manufacturer envisions these vehicles fulfilling key roles in personal urban mobility in the near future.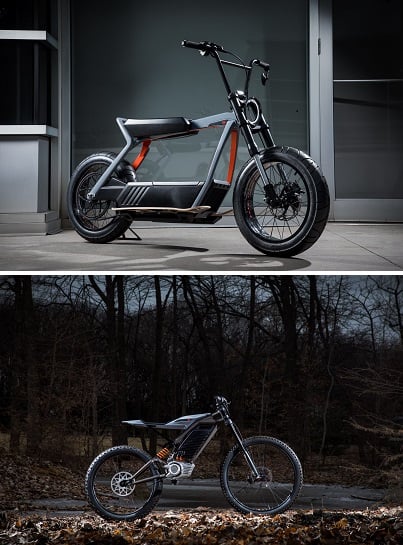 The e-scooter (top) and e-bike (bottom) concepts. Source: Harley-DavidsonAs concepts, neither has an official moniker, although one is an electric scooter and the other an electric mountain bike. The vehicles are powered by interchangeable battery packs, which recharge via standard wall outlets. The vehicles are lightweight and feature electric motors, providing good acceleration, agility and maneuverability. Harley-Davidson promises a thrilling experience, even for riders simply commuting to work.
"I jumped on and it was just like 'boom,' so much torque," said Jack Mitrani, X Games host and e-scooter demonstrator. "The most surprising thing was just how quiet and smooth it was. I'm sure we'll see them all over cities, college towns, it's the wave of the future."
Owners also won't need a motorcycle license for on-road operation, as these are typically only required for combustion-powered, two-wheel vehicles with a displacement over 50 cc. Harley-Davidson anticipates the lax operating requirements, iconic styling and efficient mobility will draw new customers to the brand.
The company expects these vehicles to round out the lower end of its electric motorcycle lineup, which will culminate in the all-electric, full-size LiveWire motorcycle, anticipated for retail in late summer 2019. It is part of the More Roads to Harley-Davidson brand strategy, which will see the manufacturer further innovate electric motorcycle technologies, strengthen its dealer network and offer new products, like those above, to inspire new riders.
Harley-Davidson announced its first e-motorcycle initiative about one year ago.