Electric scooters have become a mainstay of urban mobility, transporting workers and consumers over short distances before being returned for another person to use.
Poland-based engineering design company Triggo S.A. is in talks with major car distributors to develop electric urban mobility vehicles as an alternative to scooters.
Triggo's electric vehicle (EV) has been developed in response to the growing demand for urban mobility, including robo-taxis and car-sharing, in large metropolitan markets in Europe, Asia and the Americas.
Triggo told Electronics360 that it developed its EV to solve the daily commuting struggles and to address the lack of maneuverability in scooters.
"On a daily basis, we all see people stood still in traffic jams as their big SUVs idlly pollute our cities — in most cases with just a single occupant," said Adam Kutyłowski, head of PR at Triggo. "Then add to the equation trying to find a parking slot in congested city centers which can be a truly horrendous task that we put ourselves through each and every day."
While every automotive OEM is developing their own fleet of EVs — and many are wholeheartedly switching from internal combustion engines — Triggo said its small scale EVs will complement what these OEMs are doing because of the EVs extendable chassis that leverages the advantages of a car with a motorcycle in one, and its enclosed cabin. According to market research firm Deloitte, 50% of passenger cars in the world will be electrically powered by 2040 and between 56 million and 160 million EVs will be on the road by 2030.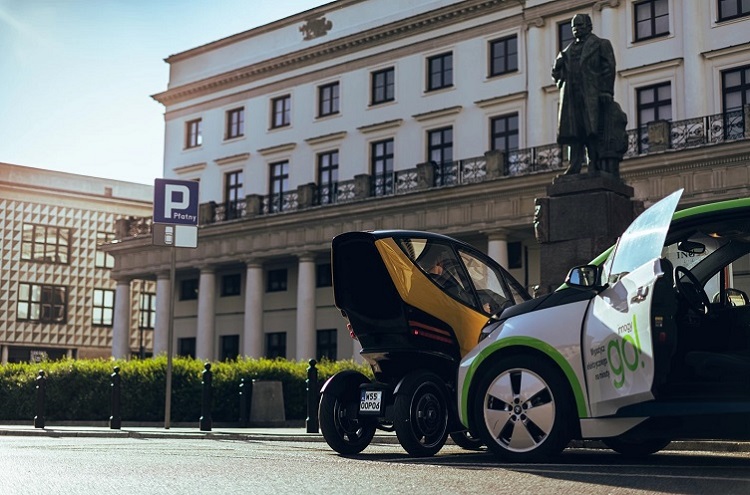 The Triggo electric vehicle maneuvers like a scooter but has more range for urban mobility such as robotaxis and car sharing. Source: Triggo
That is why Triggo is in talks with automotive OEMs and the Automotive Industry Institute to invest in its technology. However, who the company is working with specifically has not been disclosed. Triggo is also in talks to license the manufacturing of its vehicles to third party manufacturers.
Triggo's two-seater vehicle has been in development since 2015 and the company eyes 2021 for its release. The vehicle has a variable chassis that enables drivers to choose between two modes: cruising-mode for speeds up to 90 kilometers per hour and maneuver-mode with speeds of 25 km/h to work through traffic and park like a scooter.
"Triggo from the outset is designed strictly to be used in car-sharing platforms — making it the first MaaS dedicated vehicle," Kutyłowski said. "Car-sharing markets grow each year at an unbelievable pace fulfilling the requirements of a modern society that is drifting further and further away from the concept of vehicle ownership (which spend their time depreciating rapidly parked in garages)."
Triggo's car-sharing model is a step toward robo-taxis as the drive-by-wire steering system is robo-taxi-ready, Kutyłowski said. The drive-by-wire technology features digital control and replaceable batteries lessening the worry for charging stops and enhancing the ability to use public charging station infrastructure.
The next step for Triggo is to deploy a pilot series of pre-production prototypes in about 10 to 250 unit quantities and test them in real-world scenarios. This will allow the company to address problems that crop up at the beginning of the vehicle's life cycle and allow Triggo to optimize the efficiency of mass production.