Today 3-D printing has made its way into the hearts of many manufacturers. Now Airbus is on board. APWorks, a 100% subsidiary of Airbus Group, has just unveiled the world's first 3-D-printed motorcycle that weighs just about 77 lbs.
APWorks has been delving into the world of 3-D printing for the last three years and produces bionically optimized metal parts for a wide range of industries, from aerospace to automotive to robotics.
The motorcycle, coined the Light Rider, possesses a 6 kW electric motor that powers it from zero to 50 mph in just seconds and a lightweight 13-lb. frame, which makes it 30% lighter than traditional e-motorcycles.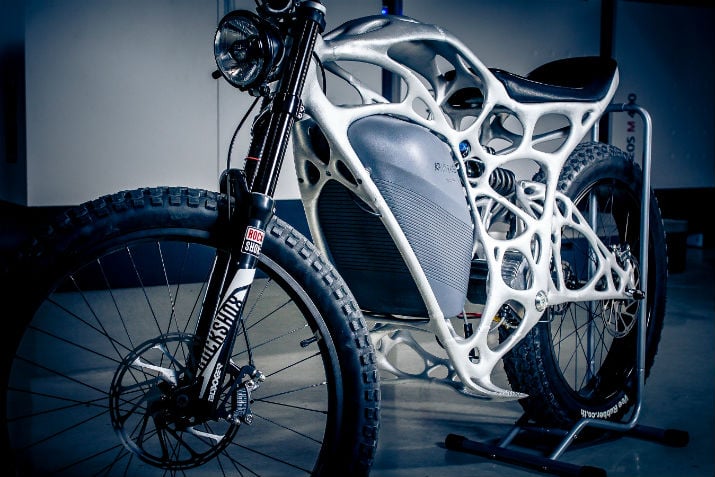 The world's first 3-D-printed electric motorcycle. (Image Credit: Airbus APWorks)
In order to develop the Light Rider's structure, the company used an algorithm to keep weight at a minimum while ensuring the motorcycle's frame was strong enough to handle the weight loads and stresses. APWorks programmed the algorithm to use bionic structures and natural growth processes as the basis.
What they came up with was a motorcycle that looks a lot like an exoskeleton. That was a very deliberate design goal.
"The complex and branched hollow structure couldn't have been produced using conventional production technologies such as milling or welding," said Joachim Zettler, CEO of Airbus APWorks GmbH. "Advances in additive layer manufacturing have allowed us to realize the bionic design we envisioned for the motorcycle without having to make any major changes. With these technologies, the limitations facing conventional manufacturing disappear."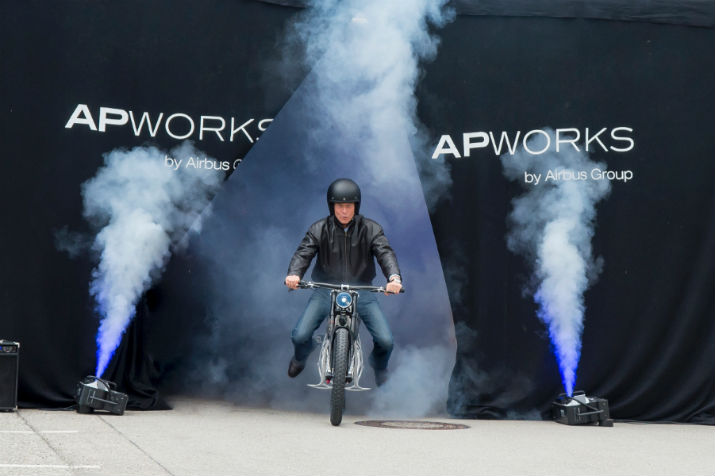 Joachim Zettler (left), CEO of Airbus APWorks GmbH, and Airbus Group CEO Tom Enders present Light Rider. (Image Credit: Airbus APWorks)
Each 3-D-printed part of the bike's frame was developed using a selective 3-D laser-printing system that melts millions of aluminum alloy particles together and consists of thousands of thin layers that measure just 60 microns thick.
Each frame part was strategically designed to be hollow instead of solid so that the company could integrate cables, pipes and screw-on points in the finalized motorcycle structure.
"We further harnessed the benefits of metallic 3-D printing by using our own proprietary material, Scalmalloy®, for the construction of the frame," said Zettler.
Scalmalloy® is a corrosion-resistant aluminum alloy that the company says is as strong as titanium. The material was designed specifically for ALM-based production and is used in a plethora of lightweight robotics, automotive and aerospace applications.
Want one? APWorks is offering a limited production run of 50 Light Riders for sale, which can be pre-ordered here.