Ujet unveiled its first product, the Ujet electric scooter, at CES 2018 in Las Vegas. The scooter combines smart connectivity and high performance materials typically found in the aerospace sector with clean technology and refined design.
Through its flagship scooter, the technology company is pioneering an innovative way for individuals to move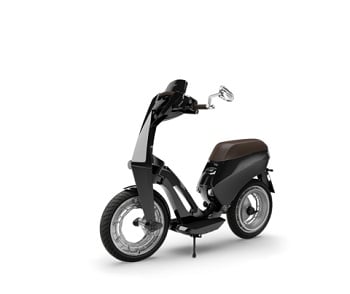 Source: Business Wire around their cities while addressing urban mobility issues of traffic congestion and pollution.
In 2016, an estimated 55 percent of the world's population lived in urban areas, a figure which is set to hit 60 percent by 2030. Existing urban mobility solutions can't keep up with the growth of our cities, and are not addressing increased congestion and pollution.
Key features of the Ujet electric scooter include:
Clean technologies
All elements of the Ujet electric scooter were built to be friendly to the user and environment alike. It offers a high-performance smart battery available in two sizes with an estimated range up to 70 kilometers (approximately 43 miles) or 150 kilometers (approximately 93 miles), which can be charged from any regular power socket. About the size of a cabin-size suitcase, the battery is removable and portable, allowing for easy and convenient transport.
Connectivity solutions
Riders can control their Ujet electric scooter directly through their iOS or Android app. Users unlock their scooters with their smartphone, receive step-by-step directions to where it is parked, share it remotely with friends and family and disable it remotely if the anti-theft protection sends a warning that the scooter has moved without their command. The app also allows riders to monitor scooter performance, including battery level, mileage and saved carbon dioxide emissions.
A personalized touch interface provides easy access to navigation, voice control, music streaming, telephone functions and the front-facing HD camera, which can take video that can be later downloaded and transferred. When in motion, riders can access basic functionality of the interface using buttons on the handlebars, allowing them to focus on the road and have a safe, distraction-free experience.
The Ujet scooter also hosts numerous connectivity options, including SIM card with 3G connection, GPS, Wi-Fi and Bluetooth. By actively collecting and processing the data from over 20 sensors, the scooter can alert the rider if there is a potential issue with any of the scooter's key components.
Advanced materials
The Ujet electric scooter is equipped with the lightest tire in its class — the world's first nano-augmented tire. Made with applied TUBALL™ containing single-wall carbon nanotubes, the tire is equipped with strong and conducive materials that provide unprecedented performance and safety. The advanced materials within the tire increase wet and dry grip by 2 times and increase traction. Materials in the frame, which include alloy and carbon fiber composite (can be up to 40 percent lighter than aluminum), allow the Ujet electric scooter to weigh just 43 kilograms (95 pounds).
The spoke-less orbital wheel includes a suspension system and larger diameter lightweight brakes, which offer a smooth ride, and the in-wheel electric motor combines optimized size with powerful performance (5.44 horsepower and 90-newton meter torque).
Ujet plans to launch in many European cities (Paris, Milan, Barcelona, Madrid, Rome, Luxembourg, Amsterdam, etc.) in the first half of 2018, followed by the U.S. (starting with California and Florida) as well as Asia in the second half of 2018. The price for the Ujet electric scooter will be targeted at around $8,900 USD for the small battery, and $9,990 USD for the large battery.