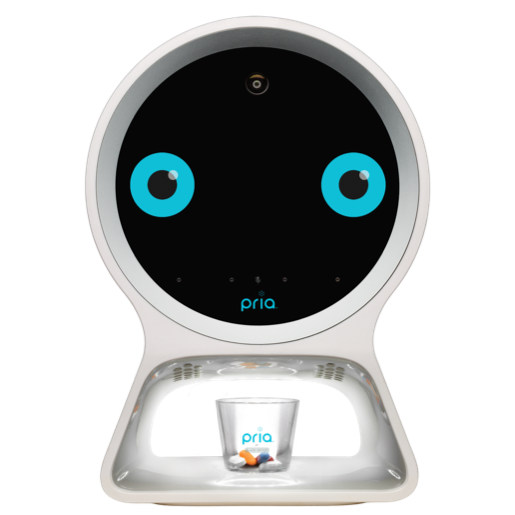 The PRIA home care companion. Source: Stanley Black & Decker, Inc.CES 2019, running this week in Las Vegas, has seen the launch of two innovations from Stanley Black & Decker: one focused on medication management to help enable independent living, and the other to improve home and business security through RF sensing technology. Both were developed by the company's Boston-based Security's Futures Breakthrough Innovation Team.
The PRIA Home Care Companion is a voice-controlled, automated medication management and home health assistant. It's designed to allow a caregiver to non-intrusively monitor an individual's healthcare and medication schedule through smartphone app integration. The assistant can schedule up to 28 medication doses, provide reminder alerts, dispense medication and provide the user with fast access to family or caregivers through its built-in camera.
The OMNI Wi-Fi mesh network uses radio frequency sensing technology that can "see" and interpret signals. The system can detect and alert users to motion in and around their home or business without complicated setup or privacy risks. It can also be personalized for multi-device cybersecurity, device quarantine and a privacy mode. The OMNI is scheduled for release in the summer of 2019, with additional features to roll out in Q3 or Q4 2019.
For more information, visit stanleyfutures.com. Attendees at CES 2019 can also visit Booth #44610 at the show. For more Electronics360 coverage of the show, click here.