CES 2020, the largest tradeshow in the world, is a mere two months away. Event organizer Consumer Technology Association (CTA) has released its annual Innovation Award Honoree list, which identifies the best new products to be announced during the show.
This year's list includes new gadgets, audio components, televisions, smart home and healthcare innovations from a variety of vendors.
Black+Decker's Pria automated medication management and home healthcare assistant device was awarded for more secure and efficient care in the home. The voice-enabled tabletop robot allows caregivers real-time insight into both prescribed and over-the-counter medication therapy through a mobile app.
House of Marley was given an Innovation Award for its wireless earbuds called Liberate Air in the category of sustainability, eco-design and smart energy. The personal audio earbuds use sustainable materials blended with technology and wireless features include Bluetooth 5.0 technology, USB-C charging, convenient tap control functionality with Siri/Google Assistant and a nine-hour onboard battery life.
POW Audio received an Innovation Award in the headphones and personal audio category for its Una Bluetooth speaker, a portable audio device that can be put in a backpack or suitcase or even a bike or scooter. The device comes with a feature that allows it to float on water for use at pools or other water areas. Luckily, it is also splash proof and water resistant. The Bluetooth speaker can run for 14 hours on just two charging hours.
Targus will display its Innovation Award winning USB-C universal quad 4K docking station in the computer peripherals category. The docking station is a new line of eco-friendly laptop cases aimed at large enterprises, call centers and IT departments connecting any laptop to up to four 4K monitors via HDMI or DisplayPort video out ports while also supplying 100 W power delivery to its connected laptop or host. The docking station including additional ports to connect USB 3.0 peripherals and Ethernet network and use Thunderbolt 3, DisplayPort alt-mode and USB 3.0, 3.1 and Type-C devices.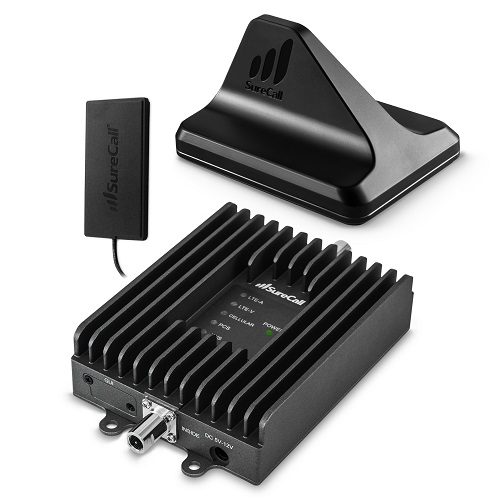 The Fusion2Go Max vehicle signal booster for cars. Source: SureCallAvast received an Innovation Award for its internet of things (IoT) security product called Avast Omni in the cybersecurity and personal privacy category. The device sends alerts if unusual behavior is detected on IoT devices on home Wi-Fi and blocks access to potential threats. It also includes parental controls, such as blocking websites, screen time limits and location services, to manage a child's digital habits.
Helm Audio had all four of its upcoming new headphone products chosen as a CES Innovation Award Honoree in the audio category. The products include a new headphone amplifier, triple driver wireless earbuds, MQA adapter for decoding music and games and the hybrid wireless earbuds that includes beamforming microphones.
Cell phone signal booster vendor SureCall received an Innovation Award in the mobile devices and accessories category for its Fusion2Go Max vehicle signal booster that extends the range of wireless performance in automobiles.
LG Electronics earned an Innovation Award in the video display category for its LG OLED television, the eighth year in a row the company has received the award. The 8K television incorporates the ATSC 3.0 next-generation standard.
Rand McNally was named an Innovation Award winner in the headphone category with its ClearDryve 180 headphone, which are wireless 2-in-1 noise canceling headphones that convert into mono headsets.
Israeli startup TriEye received two CES 2020 Innovation Award for its CMOS-based camera that uses nanophotonics for the automotive market. The cameras pave the way for next-generation advanced driver assistance system (ADA) and AV functions for enhanced vision in vehicles that will eventually be used in autonomous cars.
Omron Healthcare received an Innovation Award in the Health and Wellness category for its blood pressure monitor with EKG capability in a single device. The device, called Complete, can detect atrial fibrillation as well as detect tachycardia, bradycardia and sinus rhythm.
Finally, DeepRoute was given an Innovation Award in the automotive category for its L4 full stack self-driving system that leverages level-four autonomous driver technologies and sensor fusion technology to interpret the vehicle's surroundings. The planning algorithm in the system helps the vehicle anticipate turns, execute land changes and carry out intelligent driving decisions.
Other winners include:
Bosch for 3D display in automotive applications
Onsight's 3D semantic camera for smart cities
Samsung's Galaxy Note 10+ 5G tablet
TecPal's smart kitchen cooking machine
Zyxel's Halo Light 10G intelligent home Wi-Fi system
Atmosic's battery-free Bluetooth 5 system-on-chip
Bot3's VSLAM deep learning module
Valerann's smart roads systems
Smart glasses from Human Capable
CES 2020 will take place January 7-10 in Las Vegas.