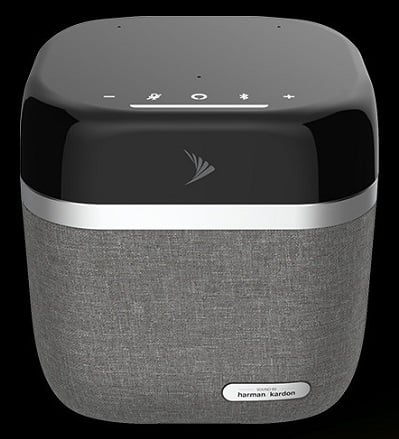 The TREBL with Magic Box smart home device. Source: SprintTelecom giant Sprint has introduced a smart home cell solution that offers enhanced LTE coverage, integrated Amazon Alexa voice capabilities and Harman Kardon sound quality.
The TREBL with Magic Box, introduced this week at CES 2019, won a CES Innovation Award in the Smart Home product category. TREBL is a wireless small cell that accelerates LTE data coverage and speed while controlling smart home devices using Amazon Alexa. The small cell can also play music with Harman Kardon audio through two 8 W speakers, an embedded amplifier, three built-in far-field microphones, Bluetooth, and noise and echo cancellation.
The TREBL with Magic Box is water-resistant, making it suitable for both indoor and outdoor use, and it is lightweight for portability.
Click here to check out Electronics360's full coverage of CES 2019.