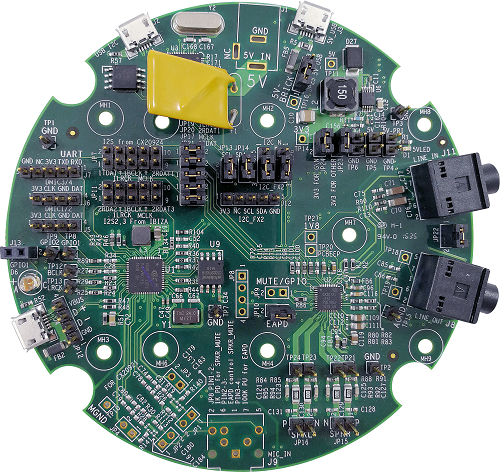 Conexant's 4-microphone CX20924 voice-enabled solution being used in Harman's devices. Source: Conexant Conexant Systems, LLC is partnering with Harman International for far-field voice-enabled smart home devices.
Conexant's AudioSmart voice input processors are the core component of Harman's 2- and 4-microphone voice solution that will be used to enable 2-microphone thermostats, 2-microphone light switch, set-top boxes, smart TVs and more.
Harman recently revealed details of the 8-microphone voice assistant that it is working with Microsoft on with the Cortana artificial intelligence joining the ranks of Amazon with Alexa, Google with Google Home and Apple with HomePod. Each of these home assistants offer a 7- to 8-microphone solution. The Harman Conexant solutions will be more focused on specific smart home devices rather than one voice assistant hub.
"There are a multitude of devices out there now," Saleel Awsare, president of Conexant tells Electronics360. "It is a huge grab and these four companies—Microsoft, Google, Amazon and Apple—are making a play for the voice assistant market. We are focused on all the devices that can be connected to these assistants."
Conexant's strategy is based on voice being the next big thing in consumer electronics meaning not just Alexa or Siri or Cortana or Google responding to voice commands but a homeowner talking to every device that's smart inside the home.
"Amazon did us all a huge favor by introducing Alexa a few years ago," Awsare says. "Now we are moving past just one device with voice-enabled capabilities but multiple microphones in multiple devices in every room. Voice is going to be ubiquitous and everywhere."
The AudioSmart technology captures the user's voice from anywhere in the room, separates the voice commands from music and voice prompts being play out of the device, even with background noise present and provides a clean audio signal to the AI system for speech recognition processing.
While Conexant is currently focused on smart home devices in the coming months and years, the company is looking to expand voice capabilities to other segments such as biometrics and authentication. It is also working to improve voice suppression and voice cancellation—something that will be important so each microphone doesn't answer a homeowner when it asks one device a question or command.