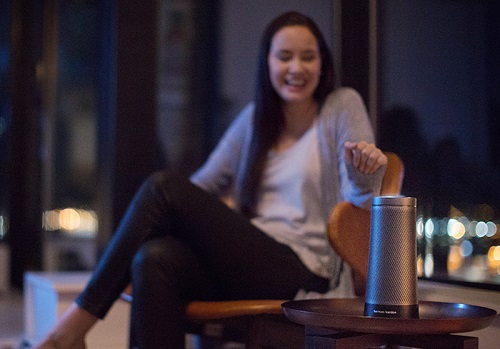 The Invoke speaker with Cortana will support Skype calling. Source: Harman InternationalHarman International has released new details to its Harman Kardon Invoke voice-activated speaker that includes Cortana, Microsoft's digital assistant.
The smart home speaker is designed to compete against the likes of Amazon's Alexa related products as well as the Google Home that was released in November of last year.
Much like those popular speakers, and others on the market, Invoke with Cortana is a voice-activated speaker that plays music, manages calendars and activities, checks traffics and news and can turn on or off the lights and control temperatures through smart thermostats.
One thing that Invoke will include that Alexa or Google Home do not is Skype. With the integration of Skype, users can make calls to cell phones, landlines and other Skype-related devices.
Because Harman is working with Microsoft on Invoke, the smart home speaker will leverage Cortana and the integration with Microsoft's suite of productivity tools. Harman says this will allow users to stay productive whether at home or in the work place through a Windows 10 PC or a mobile device.
Invoke will be available in a number of colors and will feature a metallic speaker cabinet to provide sound in a full 360 degrees. The Harman SONIQUE far-field voice recognition technology features seven microphones that can recognize details of voice commands even in high ambient noise. Other sound features include beam forming, echo cancellation and noise reduction algorithms so Cortana can hear users in noisy environments.