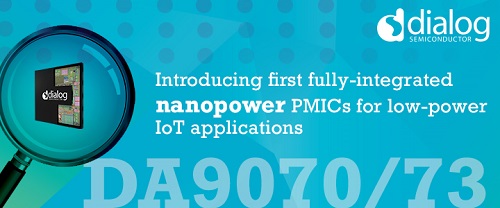 The DA9070 PMIC. Source: Dialog SemiconductorDialog Semiconductor has introduced a fully-integrated nanopower power management integrated circuit (PMIC) for internet of things (IoT) applications.
The DA9070 and DA9073 extend battery life by drawing greater than 1 uA quiescent current for each step-down regulators that power always-on components in an IoT system. The PMICs also reduce board area by 25% compared to discrete regulators, Dialog said.
Engineers can also create a battery fuel gauge with the DA9070 using the integrated voltage and current monitors, the company said. Dialog introduced the two PMICs at the Electronica 2018 trade show in Munich, Germany.