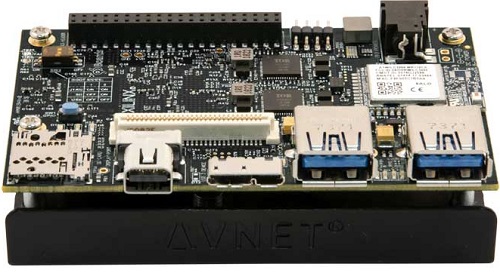 The Ultra96-V2 developer board. Source: Avnet
Avnet Inc. has introduced a development board targeted at industrial-grade artificial intelligence and internet of things (IoT) applications.
The board is an upgraded version of the Ultra96 dev board with an updated radio module to allow engineers to reach new markets including the smart home, automotive, industrial controls and more.
Like the version introduced last year, the Ultra96-V2 is an ARM-based Xilinx Zynq UltraScale+ multiprocessor system-on-chip (MPSoC) development board built on the Linaro 96Boards consumer edition. The new edition has been updated to allow temperature grade options so that the board can operate in harsh industrial applications. The new edition has also been updated with additional power control and monitoring is possible with integrated power management ICs (PMICs) designed for tight board space requirements.
The board also features a Wi-Fi/Bluetooth module, mini display port, USB 3.0 Micro-B port, 2x USB 3.0 downstream ports and comes with a complete development kit.