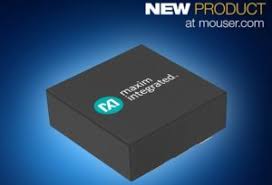 Maxim's MAX17222 converter. Image credit: Mouser
Mouser Electronics, Inc. is now stocking the MAX17222 nanoPower DC-DC step-up (boost) converter from Maxim Integrated. The MAX17222 offers a high 95-percent efficiency that minimizes heat dissipation plus an ultra-low quiescent current that helps extend battery life in highly integrated wearables, health monitors, Internet of Things (IoT) devices and other connected designs.
Maxim's MAX17222 nanoPower DC-DC boost converter operates over an input voltage range of 0.4 V to 5.5 V, delivering an output voltage range of 1.8 V to 5.0 V with an ultra-low quiescent current down to 300 nA. It also has True Shutdown™ mode, that boasts a current draw of .05 nA to virtually stop battery drain, providing long battery life and eliminating the need for external disconnect switches. The converter's 500 mA peak inductor current limit gives designers greater flexibility when selecting inductor types. The post-startup enable transient protection (ETP) allows the output to remain regulated for input voltages down to 400 mV, depending on the load current.
The Maxim MAX17222 evaluation kit features two independent circuits to evaluate both the MAX17222 and MAX17225 converters. Each circuit provides resistor-configurable output voltages from 1.8 V to 5 V in 100 mV per step. Each circuit output delivers up to 100 mA, 225 mA or 425 mA, depending on the input-to-output voltage ratio.
To learn more about the Maxim MAX17222 converter and evaluation kit, visit here.