Cypress Semiconductor introduces a kit to evaluate its energy harvesting Power Management integrated circuit (PMIC) family.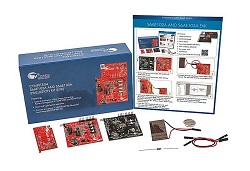 The CYALKIT-E04 Evaluation Kit provides developers with an easy-to-use platform to create battery-free systems using a solar-powered module or to support battery-life extension. The kit can also be used for evaluation of diverse power management functions used for wireless sensor nodes. The kit can be used with Bluetooth® Low Energy (BLE) wireless connectivity solutions from Cypress for Internet of Things (IoT) applications.
Two independent boards are included to evaluate the ultra-low-power S6AE102A and S6AE103A PMICs that can use solar energy to charge a supercapacitor, along with a sensor board to analyze magnetic door sensor or ambient light sensor operation. This kit includes a solar module, a coin battery, reference schematics, a BOM list, and layout to streamline designs.
Cypress PMICs enable efficient harvesting from ambient light, vibrations, and thermal variations, and offer dual inputs from two sources simultaneously, making them a reliable, flexible option to fully power or extend the battery life in IoT applications.
The Cypress S6AE102A and S6AE103A Energy Harvesting PMIC devices operate with startup power of 1.2 microwatts — four times lower than the nearest competitor — and consumption current as low as 280 nanoamps.