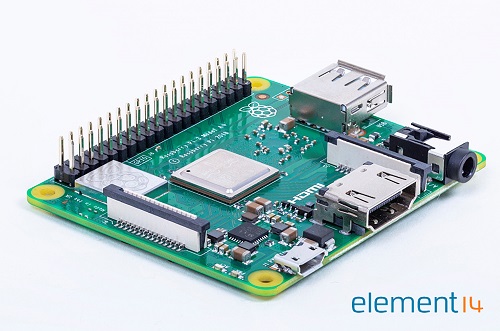 The new Raspberry Pi 3 Model A+. Source: Newark Element14The venerable Raspberry Pi has been used by developers, makers, businesses and tinkerers to make anything from a DIY robot cat, a retro gaming machine or STEAM kits for young children.
Now, Raspberry Pi is making it easier for people to use the developer board with a new Raspberry Pi 3 Model A+ that has a price of just $25 and runs on a 64-bit quad core Broadcom processor.
Newark Element14, a division of Avnet Inc., is offering up the Raspberry Pi 3 Model A+ as part of its maker and developer offerings.
Similar to the Raspberry Pi 3 Model B+ that was launched in March, the new Raspberry Pi runs at 1.4 GHz and features dual-band wireless networking for 2.4 Ghz and 5 GHz IEEE 802.11ac wireless LAN and Bluetooth 4.2.
Newark Element14 said the board is appropriate for educators and makers for whom USBs, Ethernet connectivity and 1 GB of RAM may not be a requirement. It can also be used by professionals, offering the same modular compliance certification as the Raspberry Pi 3 Model B+.
This version of the developer board has the same mechanical footprint as the Raspberry Pi 1 Model A+ and will be produced until at least January 2023.
Other features of the Raspberry Pi 3 Model A+ include 512 MB LPDDR SDRAM, extended 40-pin GPIO header, one full-size HDMI, MIPI DSI display port, MIPI CSI camera port, four-pole stereo output and composite video port, MPEG-4 decode, H.264 encode, micro SD format and more.