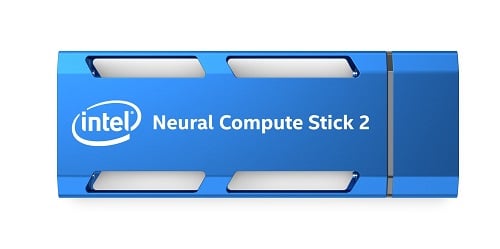 The Neural Compute Stick 2. Source: IntelIntel Corp. has introduced a new iteration of its Neural Compute Stick (NCS) designed to build smarter artificial intelligence (AI) algorithms and for prototyping computer vision as the network edge.
The Neural Compute Stick 2 (NCS2) is based on Intel's Movidius Myriad X vision processing unit (VPU) and Open Vino toolkit. The device speeds up the development of deep neural networks inference applications and gives a performance boost over the previous generation, Intel said.
The NCS2 can be used by developers working on a smart camera, drone, robot or smart home device allowing the engineer to prototype faster. The device looks like a standard USB thumb drive but features a neural compute engine — a dedicated hardware neural network inference accelerator for enhanced performance — and offers flexibility in prototyping for a variety of form factors and product types, Intel said.
Using a laptop, the Intel NCS2 allows developers to have AI and computer vision applications up and running in minutes, the company said. The device runs on a standard USB 3.0 port and requires no additional hardware.
Intel said the first-generation NCS fueled a community of tens of thousands of developers, dozens of research papers and 700 developer videos.