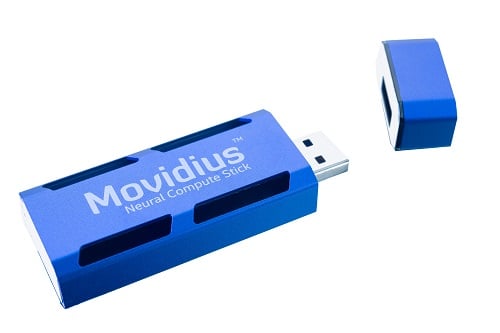 The Movidius Neural Compute Stick. Image credit: Intel
Intel Corp. has launched what it claims is the world's first USB-based deep learning inference kit and self-contained artificial intelligence (AI) accelerator in a stick form factor.
The Movidius Neural Compute Stick is aimed at reducing barriers to developers, researchers and makers for deploying AI applications in a deep-neural network processing in a small form factor.
The stick automatically converts a trained Caffe-based convolutional neural network (CNN) into an embedded neural network to run on a Movidius Myriad 2 vision processing unit (VPU). The device can behave as a discrete neural network accelerator by adding dedicated deep learning inference capabilities to existing computing platforms for improved performance and power efficiency.
The Movidius stick is now available through select distributors for $79. Intel plans to show off the device at the upcoming Computer Vision and Pattern Recognition (CVPR) conference next week.