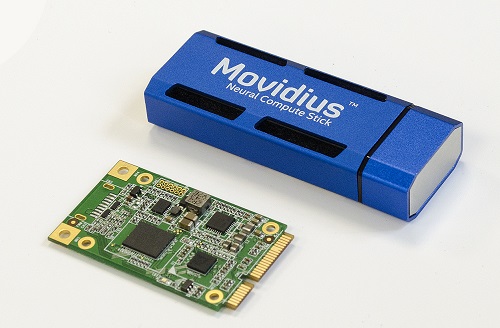 AI Core from AAEON's Up Bridge the Gap and the Movidius stick side by side. Source: Intel
Intel Corp. has unveiled a new program that is designed to bring artificial intelligence prototypes to market.
The program, called "AI: In Production," is based on the Movidius Neural Compute Stick (NCS) that has gained a developer base in the tens of thousands. Once a developer has a prototype AI, the next step is to take it into production, which Intel says is costly for small companies and entrepreneurs.
Intel is partnering with AAEON Technologies, who provides two streamlined production paths for developers to integrate the Movidius Myriad 2 vision processing unit (VPU) into their product designs.
The first option is a new AI core from AAEON's Up Bridge the Gap, a mini-PCIe module that features the Myriad 2 VPU to work in x86 host platforms. The second option AAEON offers is development and board manufacturing services that allow companies to move from NCS-based prototypes to custom boards in a streamlined manner, Intel says.
The company says developers are already building products through the Intel "AI: In Production" program, the first being Conex, a design and creation of point-of-sale display systems for the cosmetics industry. Conex is using the program to deploy AI-enhanced, point-of-sale retail devices to some of the largest cosmetic goods retailers coming this spring.