Mosaic Manufacturing has launched its multi-material 3D printing ecosystem. This ecosystem includes Palette 2, the Canvas Software Platform and Canvas Hub. Canvas is a multi-material 3D printing-focused software that enables multi-material 3D printing by non-technical users. Palette 2 is a hardware product that integrates with 3D printers enabling multi-color and multi-material 3D printing. It is now available on Mosaic's website starting at a pre-order price of $499.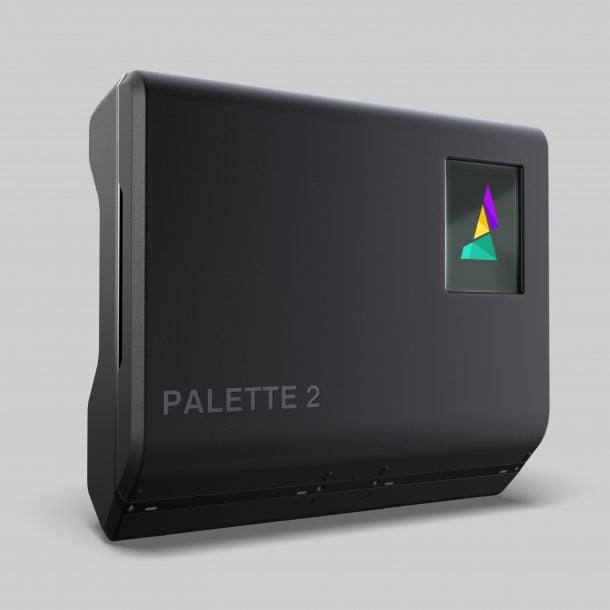 The Palette 2(Source: Mosaic Manufacturing)
Mosaic is excited to also announce that MakerGear, Raise3D, Dremel, Robo 3D, gCreate and Makeit are all Palette 2 and Palette 2 Pro integration partners. These companies will be launching 3D printers with integrated Palette 2 experiences so that users will have access to multi-material 3D printing as a native feature.
Palette 2 enables 3D printers to combine flexible materials, soluble materials, rigid materials and different colored materials in a single print. The ability to print in multiple materials enables designers, engineers and manufacturers to harness 3D printing in entirely new ways to directly print high-value parts. It is universally compatible with nearly all filament-based 3D printers on the market. Palette 2 can be used alongside a user's existing 3D printer or can be integrated directly into a 3D printer by the printer's manufacturer.
Palette 2 is the first product in the 3D industry to be able to integrate into a 3D printer's workflow to create a "one click print experience," providing non-technical users with access to multi-material 3D printing. It also features an upgraded color touch screen, auto-runout detection and Mosaic's next generation of solid-state filament splicing technology.
Mosaic has developed a multi-material cloud software platform — Canvas. Current slicing software programs on the market were designed for single material machines and they force users to go through four times the work to create a four-color multi-material print. Canvas was designed from the start to streamline multi-material workflow, automating and simplifying the process to enable anyone using a 3D printer to access multi-material slicing.
Palette 2 is available at Mosaic Manufacturing.