3-D Printing start-up Aether has rolled out a 3-D bioprinter that allows users to combine the ability to 3-D print objects with 10 materials and the ability to mix multiple fabrication methods in a single print.
The Aether 1 combines an 8 syringe-equipped bioprinter with a dual-Bowden extruder FFF printer, a laser assisted bioprinter, laser engraver, CNC milling machine, UV-curing 3-D printer, 400 degree chocolate/food printer, 3-D electronics printer, 4,000 Hz droplet-jetting printer, universal module fabrication device, full-color robotic drawing, painting and calligraphy machine and a photo to fabrication art machine.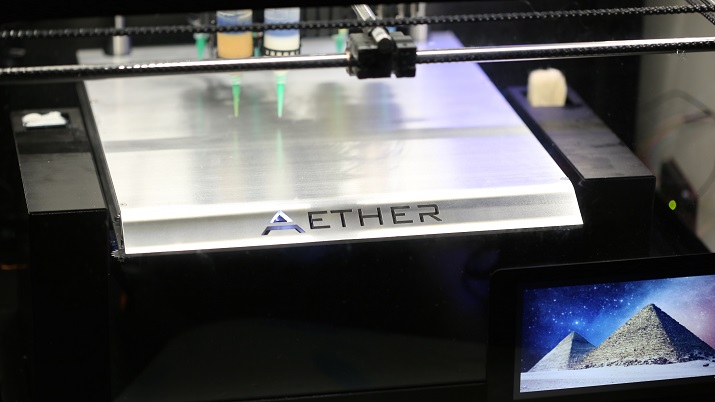 The Aether 1 bioprinter uses a machine vision powered automatic air pressure calibration system that eliminates the need for manual calibration. Source: AetherThe Aether 1 uses a machine vision powered automatic air pressure calibration system that eliminates the need for manual calibration, which Aether claimed is the most difficult aspect of air pressure printing. The bioprinter automatically retracts inactive syringes and tools and includes an automatic stage leveling with optical sensors.
The system also includes a full-color light emitting diode (LED) lighting system including blacklight LEDs to light up glow-in-the-dark materials and fluorescent bio-materials, Aether said. The bioprinter includes a 13 megapixel camera with a microscope attachment for machine vision recognition capabilities that can recognize cells and other objects during the printing process.
The ability to create 3-D food printing can allow chefs, caterers and other food professionals to use 8 food materials in one print onto a hot, cold or room-temperature surface. This allows for the melting of chocolate, sugar, cheese and other materials. Aether said current food printers are the most expensive on the market and only allow printing with one to two materials. The company believes this will open up a new world for innovative food as well as additional opportunities in the marketplace.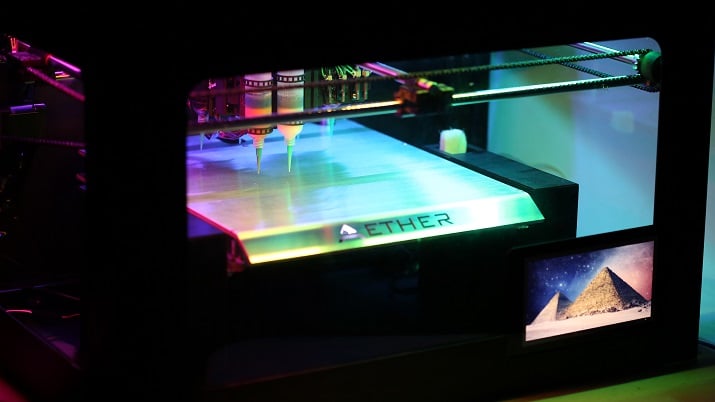 Anything from art, prototyping, material creation and food service creation can be accomplished using the Aether 1. Source: AetherThe Aether 1 can also be used to create art from a variety of digital or downloaded design files using actual pencils, pens, paintbrushes or other calligraphy tools directly onto surfaces like canvas or paper, using up to 8 art tools at once. The system also can be used for prototyping using CNC milling or laser engraving, Aether said.
The Aether 1 is scheduled to be available in the second half of this year at a cost of about $9,000.