The autonomous trucking market has been on an interesting journey this month after Uber decided to pull the plug on plans to develop autonomous trucks. That was followed by a former Uber self-driving truck expert establishing a new startup to bring autonomous trucks to market.
Another interesting development occurred for Hyundai Motor Company, as the automotive OEM completed its first domestic journey with an autonomously navigated semi-trailer truck on a highway in South Korea. The Hyundai Xcient truck drove about 40 km on a highway between Uiwang and Incheon, carrying a large semi-trailer to simulate cargo transportation.
Hyundai said the autonomous navigation of heavy-duty trucks will transform the trade logistics industry by reducing the number of accidents due to human error and improving efficiency of long trucking runs.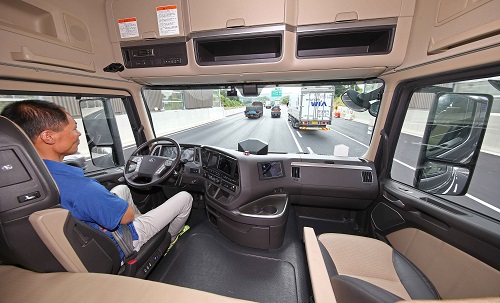 A human driver on-board a self-driving Xcient truck. Source: Hyundai"At this stage, a human driver is still used to control the vehicle manually in certain situations, but I think we will achieve level 4 automation soon as we are constantly upgrading our technological capability," said Maik Ziegler, Ph.D., director of commercial vehicle R&D strategy group at Hyundai.
The demonstration was conducted using a maximum load capacity of 40 tons and a level 3 autonomous driving system, allowing the vehicle to steer, accelerate or decelerate and maneuver through traffic without human input. A human driver was on-board in case manual control was required.
The technology included changing lanes during the natural flow of traffic, detecting lane changes made by other vehicles, navigating through tunnels, performing a complete halt and accelerating according to road traffic. The truck was equipped with 10 sensors—three front and side-rear cameras, two frontal and read radars, three lidars in the front and sides and a hitch angle sensor in the trailer coupler. The data from these sensors was consulted with a HD map, sending information to the electronic control unit (ECU) for speed control, steering and braking.
A new steering control system, called motor assist hydraulic steering, was created to provide a precise steering mechanism to control the steering angle depending on the decision made by the ECU. This minimizes the effort required to steer the vehicle which reduces driver fatigue.
Hyundai said it plans to undertake further autonomous navigation technology tests in the future in areas such as Busan and also plans to develop enterprise capabilities for early commercialization of the technology.
Earlier this year, Chinese commercial delivery company Suning Logistics completed its tests for autonomous heavy-duty trucks, and a new start-up rolled out an all-electric logging truck to change how much emissions these vehicles generate.