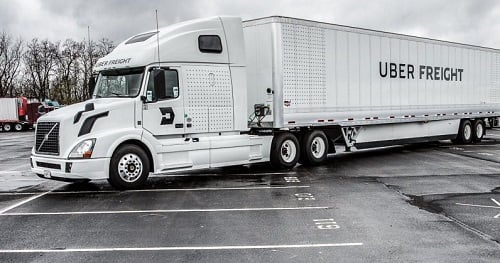 Uber will only focus on developing its self-driving car program after discontinuing working on autonomous trucks. Source: UberIt is a tumultuous time for the self-driving program from Uber.
After the March death of pedestrian in Arizona caused by one of its autonomous vehicles, the company has found itself on the defensive, briefly shutting the doors on development of the program as well as laying off a number of staff as it re-assessed its platform.
Now the company has announced it will scuttle its autonomous truck program, which was in the works in parallel to what it was doing with its self-driving cars, in order to exclusively work on its autonomous cars.
Employees who were focused on building the self-driving truck program will be shifted to work on areas in comparable roles. If those roles are not available, Uber said it will either relocate those employees or offer separation packages.
"We've decided to stop development on our self-driving truck program and move forward exclusively with cars," said Eric Meyhofer, head of Uber Advanced Technologies Group, in a statement.
Recently, Uber began testing its self-driving cars again after months of halting the pilot programs in Arizona, California, Canada and Pennsylvania. Uber said it will continue to work on its in-house lidar technology, which is seen as one of the major technologies that will enable self-driving cars to operate.
Meyhofer said the move to discontinue work on autonomous trucks would allow the company to focus the entire team's energy toward a common goal of bringing self-driving cars to reality.
Part of the motivation for discontinuing its self-driving truck line may have come from increased competition in the market from Waymo, Google's autonomous driving division, that just this year began testing cargo hauling, and Daimler, which is focusing its own efforts toward autonomous trucks. This doesn't even include startups such as Starsky Robotics, which plans to put in place driverless deliveries by the end of the year, and Embark, which recently drove an automated truck across the U.S.
Uber's self-driving truck business caught headlines nearly two years ago when it became one of the first companies to demonstrate self-driving trucks in the form of an Anheuser-Busch delivery vehicle that hauled more than 50,000 cans of Budweiser on a 120-mile journey in Colorado.