The self-driving car market is at a fever pitch with every automotive OEM announcing plans to introduce vehicles with various levels of autonomy in the next five years. These companies have been joined by a growing number of outsiders - startups looking to take advantage of the quickly changing automotive landscape moving toward electric engines and autonomous features.
In the past 12 months, the autonomous trucking market has accelerated as well, despite Uber announcing it was getting out of the market. Recently, startup Kodiak Robotics raised $40 million to develop a fleet of self-driving trucks backed by one of the founders of Otto, which was acquired by Uber to be its autonomous trucking fleet before it folded.
Last month, Hyundai completed its first autonomous journey in its Xcient truck. Another startup, Sweden-based Einride, showcased a new self-driving logging truck to reduce emissions and create more efficient transportation for that segment of the market.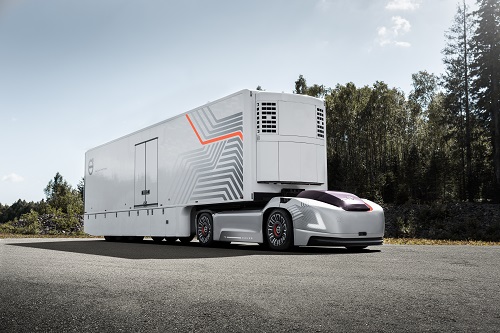 The Vera autonomous truck that will be connected to the cloud for centimeter precision tracking. Source: Volvo Now, Volvo Trucks is getting into the action with its own autonomous electric commercial vehicles, called Vera, that it bills as a more efficient, safer and cleaner means of transportation.
Volvo said the long-term goal is to help solve environmental issues such as climate change as well as help with congestion, pollution and noise in cities. E-commerce is accelerating, and with a shortage of truck drivers, it is putting higher demands on transportation solutions, Volvo said.
"The full potential of the transport industry is yet to be seen. Everything suggests that the global need for transportation will continue to significantly increase in the coming decade," said Claes Nilsson, president of Volvo Trucks. "If we are to meet this demand in a sustainable and efficient way, we must find new solutions. In order to secure a smoothly functioning goods flow system we also need to exploit existing infrastructure better than currently. The transport system we are developing can be an important complement to today's solutions and can help meet many of the challenges faced by society, transport companies and transport buyers."
The autonomous trucks would be used for regular and repetitive tasks, including traveling over short distances, transporting large volumes of goods and high-precision delivery.
The self-driving trucks will be autonomous and electric, as well as be connected to a control center. The vehicles are used as tractor units and are compatible with existing load carriers and trailers. Because the trucks are electric, they will have zero exhaust emissions and low noise levels, Volvo said.