ASI Logistics and SICK, Inc. announce another milestone in the development of autonomous yard truck operations. Together, they solved the issue of reversing into trailers autonomously. Autonomously reversing into trailers is one of the final steps in completing fully autonomous yard truck operations. ASI Logistics utilized its robust Vehicle Automation Kit (VAK) and SICK's industry-leading lidars to overcome this challenge.

How it works
For autonomously reversing into trailers to operate correctly a few technical details must be known. The autonomous trucks must know the position and height of the trailer's kingpin it is reversing into. The kingpin is the mechanism under the trailer that connects to the truck's fifth wheel and locks the trailer to the truck. The truck must be able to command the kingpin connection, and the truck must be commanded to reverse autonomously into trailers.
ASI Logistics leverages a state-of-the-art VAK to control its autonomous yard trucks. Inside the VAK is the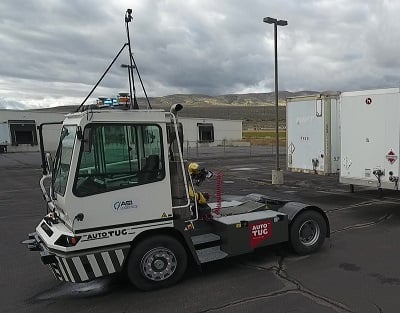 Source: ASI Logistics truck's Vehicle Control Unit (VCU) that commands all the truck's functions when in autonomous mode. Relying on quality data transmission from the sensors to the VCU is key to reversing into trailers autonomously. ASI utilizes two SICK lidars, the LMS1000 for kingpin position and the TIM551 for kingpin height.
As the truck reverses, the two lidars detect where the trailer's kingpin is and relay this information to the truck's VCU. The VCU then commands the throttle, brakes, steering and fifth wheel to continue to reverse safely into the trailer until a secure and safe connection to the kingpin is made. Once the connection is made, sensors indicate that the truck has a secure connection and is now ready for the robotic arm to attach the necessary glad-hands and continue with the rest of the move.
This whole process is completed using ASI's Mobius software. Mobius is the most advanced command and control software for autonomous vehicles in the world and is backed with over 20 years of industry experience and has millions of data testing hours behind it. Mobius shows real-time vehicle movement, vehicle state, kingpin alerts and robotic arm control all from a user that can be on-site or anywhere in the world.
ASI's Mobius combined with SICK's lidars offer huge potential to continuously deliver the most advanced autonomous yard truck solutions in the world.