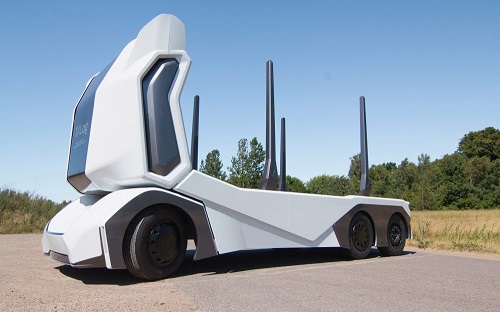 The T-log has no cab, which increases load capacity and lowers production costs. Source: Einride
It is hard to find an industry or application in the automotive space where someone is not developing an electric or automated option.
Take Swedish startup Einride for example, who is developing an all-electric, autonomous logging truck.
Logging may not seem like an area of the automotive space in need for an all-electric, autonomous vehicle; however, Einride said the T-log truck is a green alternative to diesel, emitting no greenhouse gas or toxic nitrogen oxides in the environment.
"Heavy road transport is responsible for a substantial part of global CO2 emissions," said Robert Flack, CEO of Einride. "Add to that the tens of thousands of people who die every year from NOx pollution — effectively poisoned by diesel fumes — and you have every reason to look for a more sustainable alternative. The T-log eliminates those emissions entirely, by replacing diesel with electricity. Technology has progressed to make it happen. And because it can be done, it must be done."
The T-log is the more powerful follow-up to Einride's first all-electric truck, the T-pod, with some off-road capabilities and is designed to navigate forest roads.
The truck uses Nvidia's Drive self-driving platform and is capable of Level 4 autonomous self-driving. The truck has no driver car and can be remote-controlled by a human operator from hundreds of miles away.
Because there is no cab, it is a smaller vehicle that increases load capacity, lowers production costs, lowers operating costs and optimizes energy consumption, Einride said. The T-log comes with cameras, LiDAR and radar for 360-degree awareness of its surroundings.
"The driver's cab is what makes trucks expensive to produce, and having a driver in the cabin is what makes them expensive to operate," Falck said. "Remove the cabin and replace the driver with an operator who can monitor and remote-control several vehicles at once and costs can be reduced significantly. In addition, operating a vehicle from a distance allows for a much better working environment, as has already been demonstrated in industries like mining."
Intelligent routing software provides real-time traffic data so the T-log can adjust its route to avoid congestion and fleets of T-logs can be coordinated for the best efficiency of delivery time, battery life and energy consumption.
Einride said it plans to introduce the T-log to public roads starting in 2020.