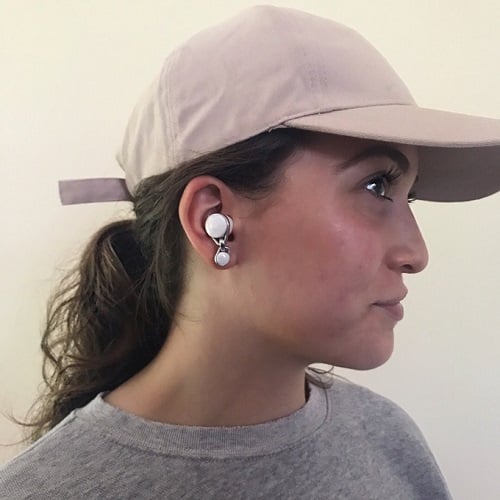 These earrings double as audio earbuds by swinging them to the ear. Source: Scandi Electronics
You've heard of Bluetooth audio speakers, Bluetooth headsets and headphones, Bluetooth-enabled gadgets for cameras, smartphones and other applications for the internet of things (IoT).
But are you ready for Bluetooth earrings?
What might you use Bluetooth earrings for, you may ask. According to the maker of Swings, Scandi Electronics, the Bluetooth earrings are for people who can't use earbuds because they don't fit.
Swings are for pierced ears as a fashion accessory but then users can swing them into an ear when they want to listen to audio or take a phone call. Designed for women, Swings come in three different versions: one for those on the go called Swings Sport; one for everyday use called just Swings; and Swings Bling, which are designed for a night out on the town that feature gold, silver or rose gold plated stainless steel and are Swavorki crystal encrusted.
The Bluetooth 5.0 earrings pair with iOS, Android and Alexa, Siri or Google voice-activated home automation. The audio technology includes noise cancellation technology for calls and optical sensor motion accelerometers control the audio when they are placed in the ears.
Scandi Electronics has started a Kickstarter campaign to drum up interest in the earrings and to help with production. To learn more about the campaign, go to Kickstarter.