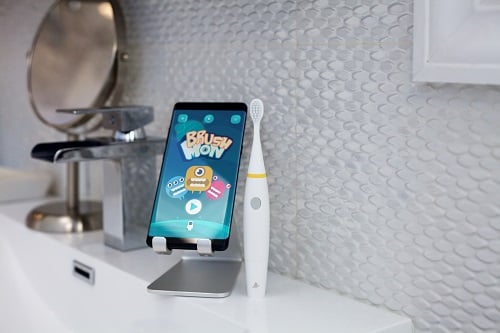 The toothbrush uses augmented reality to play a game while kid's brush. Source: Kitten Planet
Kitten Planet, a spin-off company from Samsung Electronics' C-Lab incubator, has launched an augmented reality toothbrush that helps encourage healthy brushing among children.
Brush Monster is geared for kids ages 3 to 8 and uses Bluetooth technology to connect directly to a smartphone or tablet. Kids click on an introduction video in which an evil character named Green Mold captures the Brush Monster character and the only way to save him is by following instructions telling them where, when and how to brush their teeth.
As the kids brush, the augmented reality-enabled app acts like a "magic mirror" projecting colorful graphics like sparkles, monster ears and goggles directly onto the kids' faces. The icons change daily to keep the game fresh and kids are rewarded with a star and can take a selfie after brushing.
The brush includes an anti-bacterial soft brush, four step sonic vibration levels, built-in sensor that tracks brushing data and a long-lasting battery that is compatible with AAA batteries, which last up to three months when the brush is used twice a day.
Kitten Planet has started a Kickstarter campaign in order to generate funds for the toothbrush as well as to generate hype. The brush is priced in the campaign at $49.00 with an estimated ship date of July of this year. To find out more information about this campaign, click here.