Skyworks is pleased to introduce the SKY85309-11, the industry's highest power, fully integrated front-end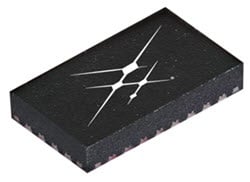 Source: Skyworksmodule (FEM) for 802.11ac internet of things (IoT) applications.
The FEM incorporates a 2.4 GHz single-pole, double-throw (SPDT) transmit/receive switch, a low-noise amplifier with bypass and a power amplifier. It features high gain (32 dB) to improve system-on-chip (SoC) linearity and includes a receive filter port for co-existence filters without loss on the transmit path. The FEM reduces costs by meeting maximum FCC EIRP requirements with only two streams and comes in a compact, 24-pin 3 x 5 mm Quad Flat No-Lead (QFN) package. This feature-rich device is ideal for IoT applications including access points, routers and gateways.
Features
Integrated high performance 2.4 GHz PA, LNA with bypass and T/R switch
Fully-matched input and output
Integrated power detector and directional coupler
Transmit gain: 32 dB
Receive gain: 12 dB
Output power: +22 dBm @ 1.8 percent EVM, HT40, MCS9, 5 V
Output power: +24 dBm @ 3 percent EVM, HT40, MCS7, 5 V
Small, QFN (24-pin, 3 x 5 mm) package (MSL3, 260 degrees Celsius per JEDEC J-STD-020)