Skyworks is pleased to introduce the SKY85774-11, a highly integrated 5 GHz front-end module (FEM) that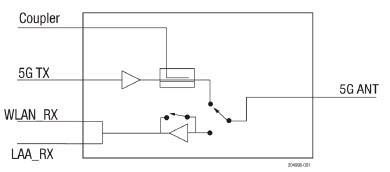 Source: Skyworkssupports simultaneous WLAN and licensed assisted access (LAA) protocols for mobile smartphones and tablets.
This advanced module incorporates a power amplifier, low-noise amplifier (LNA) with bypass and a single-pole, double-throw (SPDT) transmit/receive switch. Its high-performance power amplifier increases range and saves power while eliminating external devices and reducing PCB area.
The SKY85774-11 comes in a compact 20-pin, 2.2 mm x 3 mm package.
Features:
Integrated high-performance 5 GHz PA, harmonic filter, LNA with bypass and SPDT switch
Fully matched input and output
Transmit gain: 31 dB
Receive gain: 12.5 dB
Receive bypass loss: 8.5 dB
Output power: 19 dBm, MCS7, HT20
Output power: 17.5 dBm, MCS9, HT80
Nominal supply voltage: 3.7 V
Small MCM (20-pin, 2.2 mm × 3 mm × 0.7 mm) package (MSL3, 260° C per JEDEC J-STD-020)