Skyworks Solutions Inc., a developer of high performance analog semiconductors, has announced that its advanced connectivity solutions are powering next generation Wi-Fi 6 (802.11ax) devices from the world's leading connected home and mesh network providers, including Arris, Asus, D-Link, Netgear, Ruckus and TP-Link.
Wi-Fi 6 is the newest 802.11 wireless standard that is pushing the performance envelope with speeds up to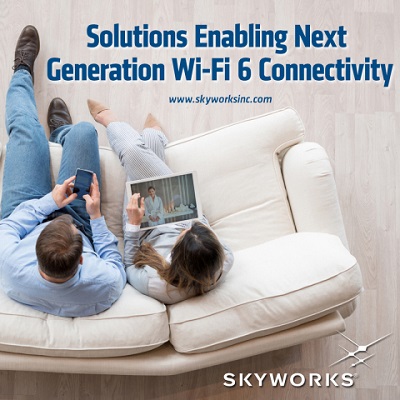 Source: Skyworks Solutions Inc.30% faster than the previous 802.11ac (Wi-Fi 5) protocol. These state-of-the-art routers accommodate the growing number of cloud devices and users in today's connected home by optimizing overall efficiency and data throughput. Skyworks' powerful modules facilitate this enhanced functionality with best-in-class linearity and performance in the smallest footprint available.
According to ABI Research estimates, Wi-Fi 6 chipset shipments are expected to grow from approximately 127 million units in 2019 to close to 2 billion units by 2024, representing a compounded annual growth rate of approximately 73%.
About Skyworks' Wi-Fi 6 connectivity solutions
Skyworks' innovative solutions expedite time-to-market by incorporating all the required functionality to deliver maximum performance and contain a logarithmic power detector to support wide dynamic ranges, low power consumption and improved thermal management. Select products from Skyworks' Wi-Fi 6 portfolio include: