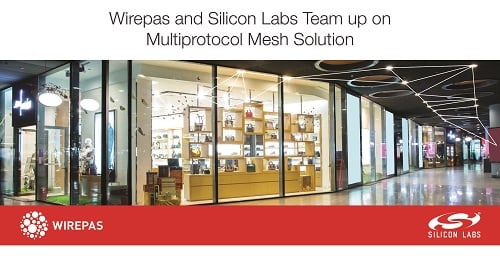 The mesh solution works with smart energy or connected lighting applications. Source: WirepasSilicon Labs and Wirepas are collaborating on a combined hardware and software solution for multiprotocol connectivity for mesh networks.
The companies have previously worked together in the smart metering market and this new venture will create a concurrent multiprotocol switching solution with one ERF32 Wireless Gecko radio for use in connected lighting, smart energy and asset management applications.
The combined solution uses Wirepas' Mesh networking stack and Silicon Labs' Bluetooth software, Micrium OS and Rail radio interface layer software to manage concurrent Bluetooth and Wirepas Mesh connectivity on a single EFR32 system-on-chip.
The companies said Bluetooth is suited for controlling lighting systems and indoor navigation through easy-to-use smartphone apps to enhance user satisfaction. Through a smartphone, the network enables simple device provisioning without requiring custom hardware by easing the installation and commissioning process.
Wirepas said its mesh delivers more than 20 times the throughput of traditional mesh solutions while retaining the ability for routing devices to run for multiple years on commodity batteries, all configurable at runtime. The network is based on industry standard IPv6 software and there is no vertical lock-in to the application layer.
The solution is slated to be available in the second quarter to lead customers with general availability planned for later in the year.