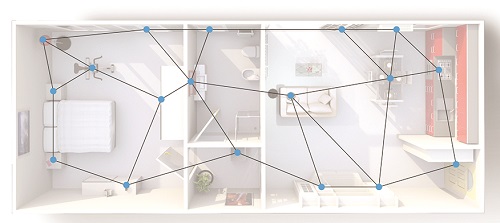 An example of a Bluetooth mesh network in the home. Image credit: Silicon Labs
Silicon Labs has introduced a new suite of software and hardware to support the new Bluetooth mesh specification.
The Bluetooth mesh suite provides a network of development tools, software stack and mobile apps that supports Silicon Labs' wireless system-on-chip (SoC) devices and modules. The company's network analysis tools and Bluetooth mesh stack for smartphones can cut time to market for internet of things (IoT) developers by up to six months when compared to existing wireless tools, Silicon Labs says.
Bluetooth mesh devices work with smart home, lighting, beaconing and asset tracking applications and are able to be deployed at greater distances from a hub or gateway. In connected lighting, a single gateway can cover an area larger than one that is simply covered by a star network topology. In retail or asset tracking, Bluetooth mesh technology can simplify deployment and management of beacons.
In addition to time savings and expanded wireless range, Silicon Labs' mesh system allows designers to verify the operation of the system with a commercially supported Bluetooth mesh library and source code to streamline design.
The Bluetooth mesh software development tools and software stack are available now free of charge to customers with registered Bluetooth mesh development kits.