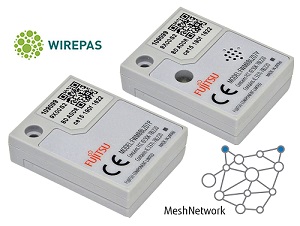 The Wirepas Mesh units and mesh-sensor units. Source: FujitsuFujitsu Component America Inc has introduced a series of technology mesh units and mesh-sensor units for internet of things (IoT) position tracking and sensor data collection.
The Wirepas Mesh technology can be deployed to large-scale networks where it can enable power saving, high-density networks with interference tolerance channel selection, transmitting power control and autonomous network rerouting capability. If a situation changes, the mesh networks can add or remove the end device, the mesh topology and protocols will automatically reconfigure the mesh network.
The mesh unit is suited for wide-area asset tracking and features a sleep mode and an integrated sensor that wakes only if certain events are detected. The FWM8BLZ07Y mesh-sensor unit uses a combination of temperature, humidity, air pressure, illuminance, three-axis acceleration and sound-level sensors. The sensor data paths through the mesh network topology and the end-node's placement is not limited by the gateway's location.
Both mesh units are based on a Nordic Semiconductor and use a single CR2450 coin-cell battery and include a voltage notification function.