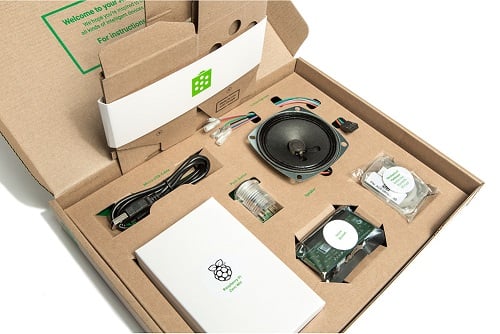 The Google DIY Voice Kit v2 includes Raspberry Pi Zero WH and pre-provisioned SD card. Source: GoogleAbout a year ago, Google introduced its first do-it-yourself artificial intelligence kits targeted at makers for use in voice-activated and machine vision projects.
Google has now updated the kits after seeing strong demand from the STEM (science, technology, engineering and math) community where parents and teachers are using the kits as tools for the classroom as well as makers that are creating DIY voice-activated devices.
The voice kit allows users to build a voice controlled speaker while the vision kit lets users build a camera that learns to recognize people and objects. The new kits will help makers and students get started easier with clearer instructions, a new app and all the parts in one box.
The new kits include the new Raspberry Pi Zero WH, which comes with a USB connector cable and pre-provisioned SD card. Users no longer need to download the software image and can get up and running faster. The updated vision kit includes the latest Raspberry Pi Camera V2.
Google says it is also introducing a companion app for Android and the AIY Project website has been refreshed with improved documentation and new models for neural networks designed to work with the kits.
The kits are slated to be available at Target and Target.com this month and Google is working to make them available globally through retailers.